SCSK Group's Corporate Philosophy and Sustainability
Together with its stakeholders,SCSK will work toward the creation of an affluent society under its aim of becoming a company that contributes to society through its business activities.
SCSK Group's Value Creation Process
The SCSK Group believes that sustainability management contributes to the sustainable development of society through faithful and fair business activities under the Group's corporate philosophy, "Create Our Future of Dreams."
In addition to continually evaluating the impact of the Group's business activities on the environment and society and improving the Group's activities, we will contribute to addressing a variety of social issues together with our clients and society, leveraging our core competence of digital technology, and work to achieve continued growth with society while creating new value necessary to society. (Creation of social and economic value)
We believe that our IT services, which are provided based on the technologies and knowledge cultivated by the Group over many years, are able to support our clients to solve their issues and strengthen their ability to compete and to create new functions and systems that contribute to solutions to social issues. Through dialogue and co-creation with our clients, employees, shareholders, partner companies, local communities and others, we will respond to the expectations of diverse stakeholders and contribute to the sustainable development of society.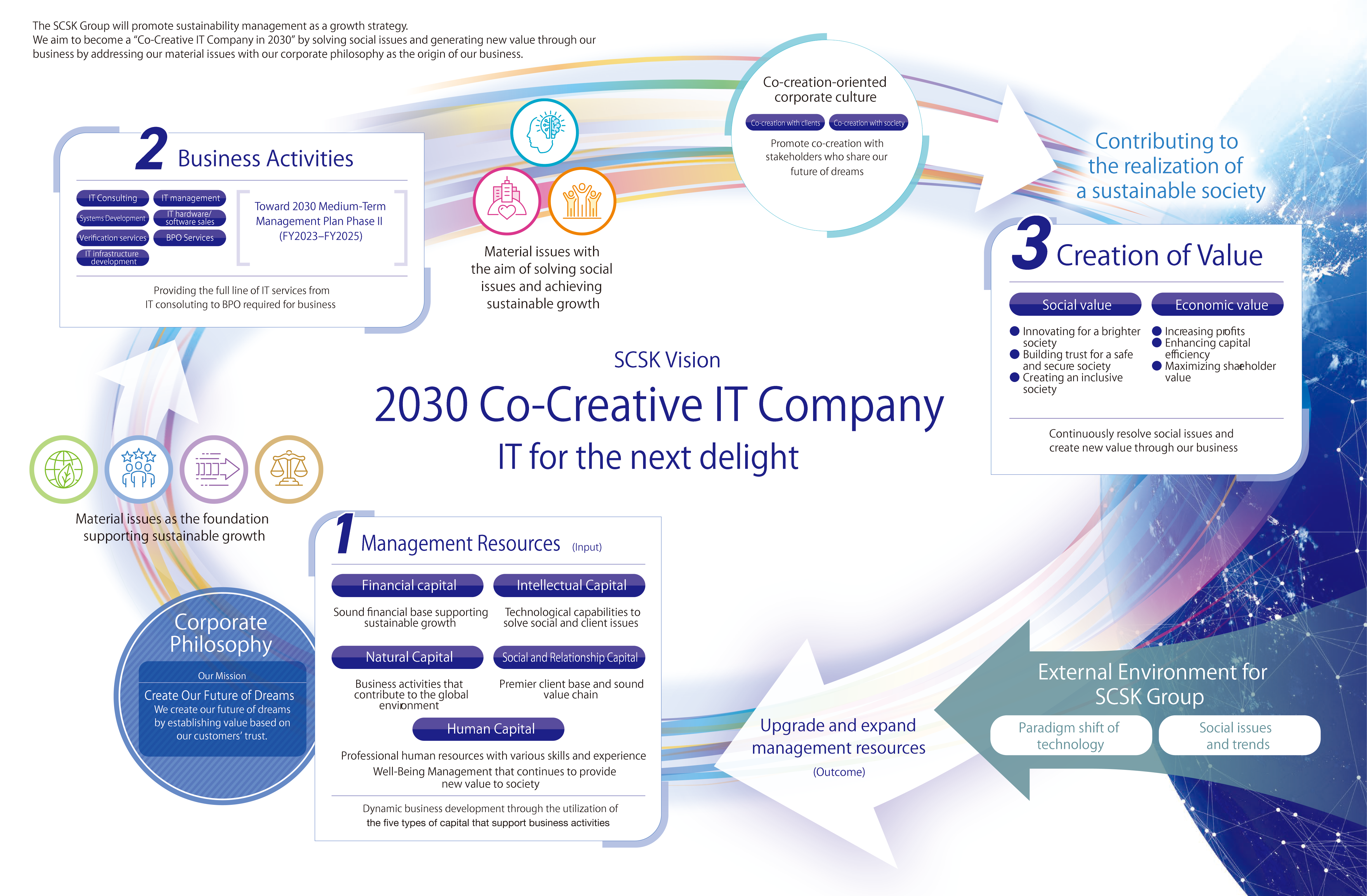 Sustainability Management Framework
The SCSK Group established the Sustainability Promotion Committee in order to promote sustainability management, which forms part of the Group's growth strategy. The committee confirms and reviews company-wide issues and initiatives related to sustainability and works to penetrate sustainability management across the entire SCSK Group. Chaired by the Executive Vice President, the committee is composed of Working Group 1 and Working Group 2. Working Group 1 is chaired by the Executive Vice President and comprises members from the executive management team. It confirms and reviews the implementation status of measures and any shortfalls in terms of sustainability and material issues. Working Group 2 is chaired by an officer in charge who serves on Working Group 1 and comprises employees selected from Business Groups and Group Corporate as members. It discusses and reviews required matters regarding the fostering of a culture that understands sustainability and material issues. Working Group 2 members are expected to play a role as outspoken leaders of activities to promote the penetration of sustainability within the SCSK Group.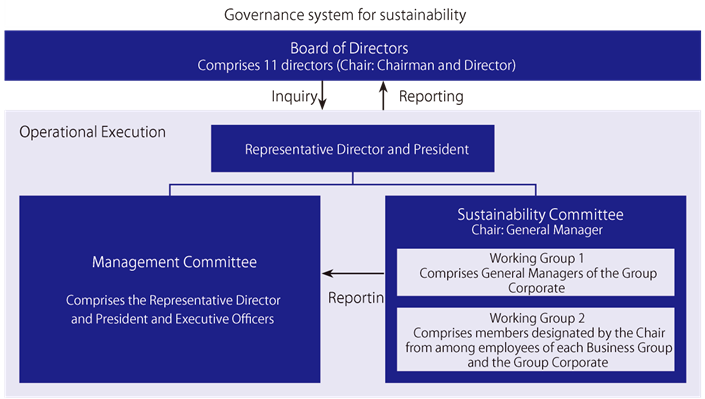 Initiatives Aimed at Promoting Sustainability Management
Beyond 2030 Committee for Discussing SCKS's Future led by Young Employees
We launched Beyond 2030 with the purpose of developing a corporate culture of self-starter employees who will be charged with sustainability management aimed at the sustainable growth of the SCSK Group. Beyond 2030 is a program for young employees and future leaders selected from across the SCSK Group to think about and discuss the SCSK Group's future and contributions to society through its businesses. Under this roughly six-month program, a select group of employees were placed into teams to discuss the SCSK Group's roles and growth strategies and to deepen discussions through exchanges with SCSK's executive management team and outside experts. Each team reported the results of discussions to top management and conducted opinion exchanges. Participants commented that they felt keenly aware of the importance of taking the initiative in thinking about the future. We plan to continue holding this program annually in FY2021 and beyond.
Future Creation Program
We launched the SCSK Group Future Creation Program in October 2020 with the goal of creating businesses originating from the SCSK Group. The program aims to tackle the challenges of business creation and produce multiple entrepreneurs by using dynamic thinking that is outside the box. The program solicited a broad range of business ideas from employees of the SCSK Group focused on the themes of "businesses that contribute to solutions to social issues visible from long-term social changes in a world with COVID-19," "businesses suited to the SCSK Group as it seeks to become a Co-Creative IT Company," and "businesses targeting several billions of yen in scale aimed at 2030." In FY2020, a total of 32 ideas were received, with each undergoing document screening, presentation screening and final screening by outside experts and SCSK's executive management candidates. We plan on continuing to hold the program in FY2021 and beyond.
Observance of International Guidelines and Principles
SCSK observes international guidelines and principles in its Sustainability activities.
U.N. Global Compact
SCSK has been participating in the U.N. Global Compact since 2007. We support the Compact's 10 principles relating to human rights, labour, the environment, and anti-corruption, and reflect this support in our business activities.
Sustainable Development Goals(SDGs)
SCSK is preparing to begin making contributions to the accomplishment of the Sustainable Development Goals (SDGs) set forth by the United Nations in 2015.
ISO26000
SCSK has been practicing management based on the core subjects of ISO 26000 since 2012, and each division is working toward the related Sustainability goals it has defined.
Global Reporting Initiative Guidelines
SCSK's integrated reports and the Sustainability activities reports available on the Company's corporate website were constructed while referencing the Global Reporting Initiative (GRI)'s Sustainability Reporting Guidelines, Fourth Edition (G4).
Initiatives for the SDGs
We are now making preparations in order to contribute to the fulfillment of the United Nations Sustainable Development Goals (SDGs). In fiscal 2016, we held a seminar for employees on the SDGs as a way of raising awareness internally. This seminar educated employees about the SDGs and what SCSK can do to contribute to the effort. We have also provided training to senior management about the SDGs. Meanwhile, we created posters to promote the SDGs and displayed them inside the company to raise awareness.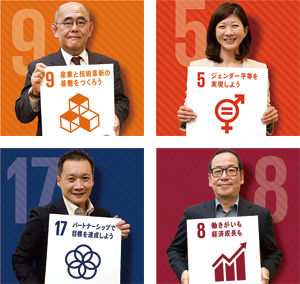 Poster featuring executives and employees as models