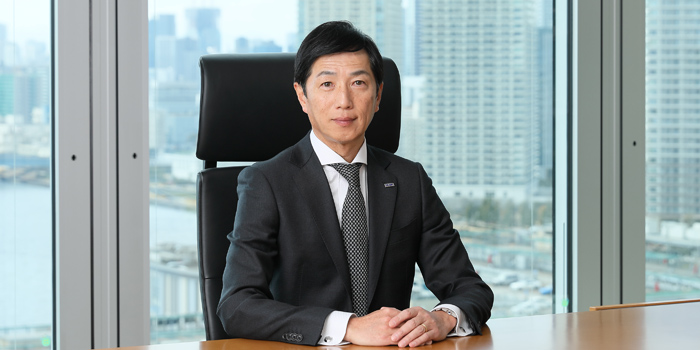 We would like to thank our shareholders for their ongoing support.
Over the five-year period starting with fiscal 2015, the period of the previous medium-term management plan, we undertook a change in approach, moving past the efforts to build and enhance earnings foundations advanced following the inception of SCSK through the merger in 2011 to work toward placing the Company on the growth track. This change saw us pursuing further corporate growth and earnings growth. Successes of this approach included increases of 30% in net sales and 51% in operating profit over the aforementioned five-year period. In addition, we have been promoting working style reforms, health and productivity management, and diversity while conducting ongoing initiatives targeting employees, the important human resources that are the driving force behind our business. These efforts have won wide-ranging support from outside of the organization.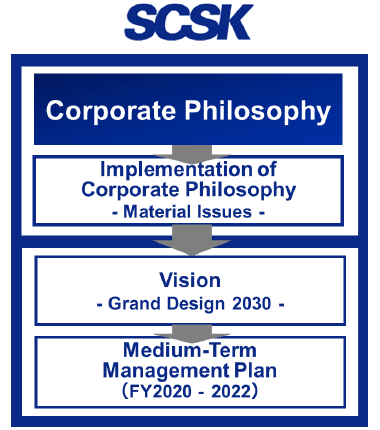 Looking ahead, achieving ongoing growth for the SCSK Group will require a long-term perspective accounting for the values of various stakeholders and the social impacts of companies and management that contributes to the resolution of social issues. For this reason, we will be practicing sustainability management as a growth strategy.
Moreover, the SCSK Group has defined materiality items for the purpose of encouraging reflection on and exercise of its corporate philosophy of "Create Our Future of Dreams" by illustrating a long-term growth vision.
The corporate philosophy and materiality items have been positioned as the SCSK Group's purpose, and we have also formulated Grand Design 2030, which puts forth a vision for the Group in 2030, a decade from now. With these overarching principles in place, we will be expanding the creation of value for customers and society through our core IT services businesses and advancing self-driven social value creation initiatives. We thereby aim to become a co-creative IT company that grows together with customers and society.
Together will all members of the SCSK Group, I am committed to making strides toward our goals of achieving net sales of \1 trillion in the fiscal year ending March 31, 2031, and growing SCSK into an industry leader in both name and substance.
Going forward, the SCSK Group will muster its collective strength to promote sustainability management in its quest to achieve ongoing growth together with stakeholders.
We ask for your continued support as we move forward.
April 2022
Takaaki Touma, President and Chief Operating Officer