Diversity and Inclusion
Basic Approach to Diversity and Inclusion
SCSK is promoting diversity and inclusion as a way to become a company with a pleasant and rewarding workplace where all employees can fully maximize their skills. We aim to be a company that grows sustainably and continually creates new value by ensuring its workforce from varying backgrounds respects one another and actively contributes to the organization.
Policy for Promoting Diversity and Inclusion
Diversity and inclusion at SCSK involves a number of measures to foster understanding and acceptance of diversity as an organization from the three standpoints of profile diversity, thought diversity and opinion diversity. Through these measures, we aspire to build upon organizational strengths as our diverse workforce acknowledges and understands one another as mutual partners. We aim to be a company that continuously creates new value-added services and achieves sustainable growth by fully drawing out the skills of its entire workforce and using this power to drive SCKS's business growth.

System for Promoting Diversity and Inclusion
SCSK established an organization dedicated to the promotion of diversity and inclusion in 2012. Since then, we have implemented a number of initiatives for promoting women's empowerment, leveraging the skills of seniors and supporting employment opportunities for people with disabilities.
Aiming for an inclusive workplace where our employees from varying backgrounds can respect one another and thrive professionally, we held seminars for all employees and rank-based training for instilling diversity and inclusion in FY2020. A web portal was also launched to promote the greater understanding and entrenchment of diversity and inclusion. The portal is regularly updated with information such as the importance of diversity and inclusion, our initiatives and messages from top management. Furthermore, our goal is to foster an organizational culture that contributes to business innovation and creation through the practice of diversity and inclusion. To this end, we have implemented a project under which organization leaders examine measures for diversity and inclusion and organizational revitalization, which they then implement and develop at their own organizations.

Realization of Diversity and Inclusion in the Truest Sense
Promoting diversity requires us to be aware of the various ways of thinking and looking at the world that are held by our diverse range of employees and to be accepting and respectful of these differences. As one measure for facilitating this kind of understanding, SCSK held a special diversity seminar every year since 2015. Conducted by an outside lecturer and attended by around 300 employees, this seminar was aimed at informing a large body of employees about diversity initiatives. In addition, we implemented a diversity e-learning program, which all employees are required to take.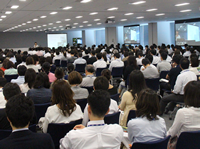 Special Diversity Seminar
Promotion of Women's Empowerment in the Workplace
In addition to human resources development and working style reforms, we have actively sought to develop work-life balance support programs in an effort to become a company where female employees can contribute their talents so that they can achieve work-life balance without over extending themselves. Among these, we are focusing on working style reforms that reduce overtime and make taking paid vacation easier so as to eliminate prolonged working hours, which have become a major obstacle to women's empowerment. We have set a goal to have a combined total of 100 female executives and line managers to encourage the greater involvement of women in the workplace. We also support women's career development through training focused on the challenges faced by women of each generation.
Program name
target
duration
purpose
items
Executive management program
Candidates for executives (incl. male managers)
1 year
Promote female (and male) managers to executives
Have trainings and seminars to have multiple perspectives to see things.

2 days training in TOHOKU to understand CSR
some seminars about some themes (e.g. liberal arts)
make a presentation to CEO at the end of the program by each program attender

New manager support program
New managers
1 year

management skill and knowledge follow up over actual practice

management seminar
Career advisory support by their boss and career advisor from HR)
round-table talk with senior female managers about career

Promotion support program
Management skill follow-up
Candidate for managers who completed "management skill training"
1 year

to have knowledge required for managers
management skill follow-up through OJT
keep their motivation to the promotion

leadership seminar
career seminar to change minds
round-table talk about career

Management skill training
Candidate for managers in the near future
1/2 year

develop the motivation to be a manager and have concrete understandings about managers job.
learn leadership
We promote career development support based on the unique challenges faced by each generation with the goal of further promoting women's empowerment. As a result, the number of female executives and line managers has reached 94. which is more than 6-times the figure from 2012.
Encouragement of Further Involvement of People with Disabilities
Tokyo Green Systems Corporation (tgs) was established in 1992 as a third-sector enterprise through a joint capital investment by the Tokyo Metropolitan Government, Tama City, and SCSK. This company is a model company for the employment of people with severe disabilities. As a special subsidiary of SCSK, tgs also promotes the SCSK Group's employment of persons with disabilities and is committed to upholding the principles of participation, independence, and coexistence. It is headquartered at SCSK's Tama Center Office and focuses on janitorial service, park maintenance, agricultural work, and restaurant service operations as well as staffing of in-office concession stands, collection and delivery services, and other businesses. We have also established Relaxation Rooms (massage facilities) at our major offices, where tgs employees with visual impairments serve as in-house massage therapists.
Promoting the Active Involvement of Employees Over the Age of 60
We have established an employment program that enables employees aged 60 or older who desire to continue working at the company until the age of 65. We are working to provide diverse career options and opportunities to learn about career planning and life planning for employees in their 50s and 60s to help ensure the economic stability of employees in their old age. We also aid employees in their efforts to accumulate the assets necessary for realizing their life plans.
Comment from a Senior Playing an Active Role
Akihiro Kokufuda
Assistant General Manager,
Business Promotion Division
IT Platform Solutions Group
Continuing my involvement in rewarding work in the same setting as before
I was rehired by the company as a full-time senior employee after mandatory retirement last December. I'm mainly in charge of developing engineers at the IT Technology Center (ITEC) inside the IT Platform Solutions Group. I really enjoy my work and the positive workplace environment, which is the same as before I retired. Essentially, nothing has changed.
Most of the engineers within the IT Platform Solutions Group are specialist engineers linked to product sales (I-class engineers). We are now building a development program unique to ITEC and fostering environmental improvements in order to build the skills of these I-class engineers into T-class engineers (talent with broad knowledge complementing a specialized domain). Although results are not immediate, I find this line of work to be very rewarding.
Looking ahead, in addition to talent development, I would like to support building a more comfortable work environment for engineers by improving their standing and workplace.
I'm strongly committed to engineers even now, so look forward to working until the next mandatory retirement at age 65, while keeping my eyes open to various fields, learning exciting new technologies, and receiving the support of those around me.
September 2019