Work-Life Balance
Support for Balancing Work and Childcare
SCSK aims to enable employees going through life events, such as childbirth or childcare, to work in a flexible manner. To facilitate a smooth return to work for employees taking childcare leave and to ensure that they can continue working with enthusiasm, we periodically hold seminars on issues related to returning to work after such leave. These seminars serve as opportunities for these employees and their supervisors to deepen their understanding about balancing work and childcare and about supporting such efforts.
In addition, we have established balance support leave that comprises up to five days of paid vacation in addition to ordinary annual paid vacation days. Employees can take this leave to attend school events until their child or children graduate from junior high school. Also, annual paid vacation days can be taken on an hourly or half-day basis, enabling flexible working styles when combined with telework.

Yasuhiro Kato
Sect. III,
Customer Support Dept.,
ProActive Business Solutions Div.
Comments from an employee raising a child
My child is in the second grade of elementary school and I'm now able to attend more school events. By combining telework with hourly paid vacation, I am now able to balance work with my childcare duties together with my wife. This has been a really big help for our household. It's really great that after 6:00 p.m. I can now look over my oldest daughter's homework and give my youngest daughter a bath.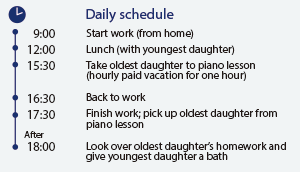 Support for Balancing Work and Nursing Care
We offer various forms of assistance, including flexible work programs, for employees who are providing nursing care to a family member. In addition to flex time, employees can take advantage of reduced work hours or telework to help balance their work and nursing care needs. We also have special leave for such situations, including nursing care leave and balance support leave. In addition, since fiscal 2014, we have held a seminar on basic nursing care knowledge for line managers ranked section manager and above and all employees over the age of 40. To date, a cumulative total of 4,191 employees (58% of all employees) have attended this seminar.
Comments from an employee providing nursing care
I was suddenly faced with providing nursing care to a family member, but I was completely lost in terms of what arrangements to make and felt considerable stress. I consulted with an outside professional paid for by the company who explained in detail about all the arrangements, which eased my stress level greatly. The company's leave programs proved to be a big help, too, from the early stages of my family member's hospitalization.
There was a time when I had to take a large number of holidays over a short period of time to attend medical appointments with my parents, which is when I took balance support leave. The Smart Work Challenge makes it easy to take annual paid vacation, so I was also able to use these days to take time off from work. I'm really grateful that the company offers these types of support programs.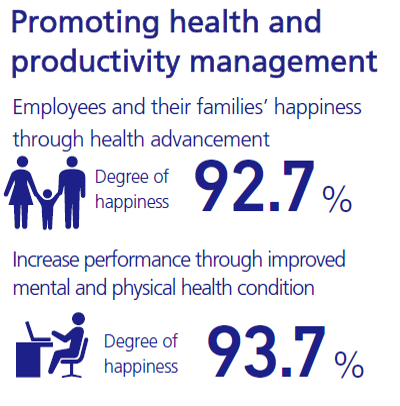 We have established a flexible work system and facilitated the smooth return to work for employees taking childcare leave and have various work-life balance programs in place to support employees in returning from paid leave at an early stage.