SCSK Corporation has continued to act in accordance with its corporate philosophy—"Create Our Future of Dreams"—since the Company was formed from a merger of Sumisho Computer Systems Corporation and CSK Corporation in 2011. Under this philosophy, we strive to become a company that contributes to society through its business activities. Contained within this philosophy, SCSK's Code of Conduct of "Challenge, Commitment, and Communication" guides this quest. "Challenge" calls for us to aim higher with future creating passion, "Commitment" encapsulates our desire to act with integrity and responsibility for our customers and society, and "Communication" represents our devotion to facilitate teamwork with respect and understanding. Based on the Code of Conduct, employees continue to carry out their duties in a manner that has enabled us to contribute to the resolution of social issues through our business. This type of engagement with issues forms the basis for SCSK's corporate social responsibility, or Sustainability.
In September 2015, the United Nations adopted its Sustainable Development Goals. These goals set targets for all countries and relevant entities to pursue in working toward the resolution of social issues. Targets have been defined for a wide range of issues, including poverty, climate change, and world peace. We are currently surrounded by unstable economic and social trends around the world. This backdrop makes the establishment of such shared global goals for addressing the issues we face even more meaningful.
The social issues faced in the IT industry present both risks and business opportunities. In Japan, for example, we must address serious social issues including the dwindling labor force, the aging population, the decline of rural communities, grave economic disparities in different regions, climate change, and energy issues. The potential for us to respond to such issues through our business is substantial. Looking at the inside of companies, we will see that the passion of the employees can greatly influence their productivity in sophisticated and high-value businesses. Accordingly, work-life balance, diversity, and health and productivity management are increasingly growing more important. I also feel that, from the perspective of sustainability in the IT industry, it is crucial for us actively address human rights issues across the value chain, such as by ensuring that our partners do not require their employees to work excessive hours.
In 2015, we defined three key Sustainability Issues as material issues to help us more effectively respond to the social issues faced in the IT industry. These three issues represent areas in which we hope to further evolve from our prior CSR activities by combining these activities with our efforts to address the management tasks defined in the Medium-Term Management Plan launched in fiscal 2015.
The first key Sustainability Issue is creating an affluent society together with our customers. To address this issue, we will incorporate resolutions for social issues into our value creation initiatives through two of the core strategies of the Medium-Term Management Plan, namely shifting to service-oriented businesses and promoting strategic businesses that capture the changing times.
The second key issue is becoming a company with a pleasant and rewarding workplace. We will increase our focus on becoming such a company through initiatives that are intrinsically linked with the development of human resources that are capable of catering to society's increasingly sophisticated IT needs.
The third issue is providing safe and secure IT services together with our partner companies. We will achieve such services by coordinating with our partners to ensure that they appropriately manage quality and employment and labor practices in order to improve operational quality with the aim of reinforcing management foundations.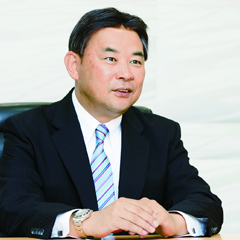 Tooru Tanihara, President
Going forward, we will advance our efforts to address these key Sustainability Issues, seeking to further solidify the link between our corporate philosophy, strategies, and the Code of Conduct. We are committed to gaining the understanding of all of our stakeholders, improving corporate value, and realizing our goal of becoming a company that contributes to society through its business activities.