While AI and other cutting-edge technologies have made tremendous advances in recent years, social issues such as climate change and widening regional disparity have also intensified. In hand with this, companies irrespective of industry are being called on to conduct management aimed at resolving social issues through their business and achieving sustainable growth together with society.
Against this backdrop, the SCSK Group evaluated a range of issues faced by society from a business perspective, seeking to achieve its management philosophy of "Create Our Future of Dreams," and specified the issues that it views as particularly important and that it should prioritize taking action on to achieve growth together with society as material issues.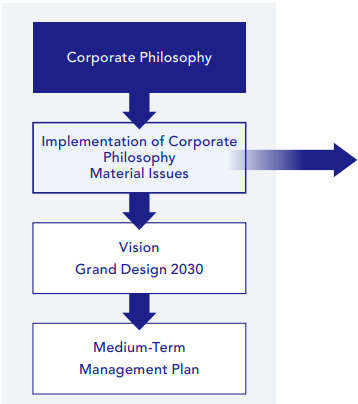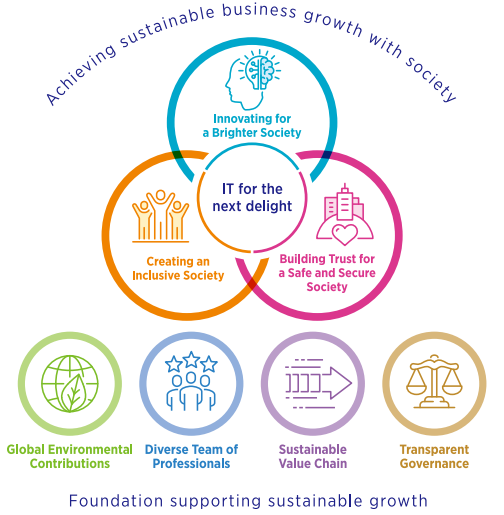 Material Issues for SCSK Group consists of three material issues that represent sustainable business growth through offering solutions to social issues and four material issues pertinent to the foundation supporting sustainable growth.
Achieving sustainable business growth with society
"Achieving sustainable business growth with society" refers to achieving three qualities in society through business activities, which will also achieve sustainable growth for the business as the social issues are gradually solved. The three material issues are interrelated and centered on the concept of "IT for the next delight" as well as connected to the "Future of Dreams" in the corporate philosophy.
Foundation supporting sustainable growth
The "foundation supporting sustainable growth" refers to solidifying SCSK's management foundation by accelerating ESG-driven initiatives, and at the same time, creating a foundation to realize the upper three material issues.
IT for the next delight
"IT for the next delight" signifies that SCSK Group will continue achieving sustainable growth that supports people's happiness, even if the term IT is expressed using different words in the future.