Timely Disclosure of Corporate Information
Structure for Timely Disclosure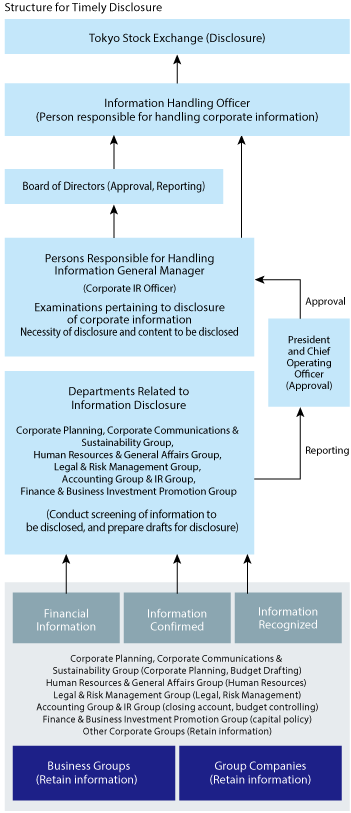 SCSK recognizes that a high level of management transparency is an important component of corporate governance and, as a measure to ensure this transparency, has established the following system for the disclosure of corporate information. Through this system, we work to disclose information in a timely, appropriate, and fair manner.
1. The Corporate Planning group; the Human Resources Group; the Legal & Risk Management Group; the Accounting Group; the General Affairs, IR, Corporate Communications & Sustainability Group; and the Finance & Business Investment Promotion Group carry out the effective collection of information that is subject to disclosure, screen what is to be disclosed, and prepare drafts for disclosure.
2. Upon receiving authorization from the president, information handling officers—the persons responsible for supervising the management and disclosure of information—confirm the content and determine whether disclosure is required.
3. The information handling officers appropriately disclose corporate information after receiving approval from the Board of Directors when necessary.
Communication with Shareholders and Other Investors
SCSK actively holds constructive communication with shareholders and other investors according to a scope and means acceptable in order to contribute to sustainable growth and the enhancement of medium- to long-term corporate value. We have appointed a director to be in charge of IR, who heads up the Company's structure for promoting constructive communication with shareholders and other investors. This director is responsible for establishing an internal system for disclosing information on the Company's business activities to shareholders and other investors in an appropriate and timely manner. In terms of actual communication, we work to facilitate direct discussions between this director and shareholders and other investors whenever possible.
As a means to promoting communication with shareholders and other investors, we hold quarterly briefings on financial results, and plan and conduct briefings on business activities and business strategies as appropriate to deepen understanding about the Company's operations. We also actively engage in IR activities both inside and outside of Japan. In particular, outside of Japan, we hold IR meetings for institutional investors in Europe, the United States as well as in Asia, including Hong Kong and Singapore. SCSK also takes part in investor conferences for overseas institutional investors hosted by securities companies as part of its efforts to engage investors. Opinions received through communication with shareholders and other investors inside and outside Japan are shared with management in an appropriate and timely manner for use in the Company's business planning.