Timely Disclosure of Corporate Information
Structure for Timely Desclosure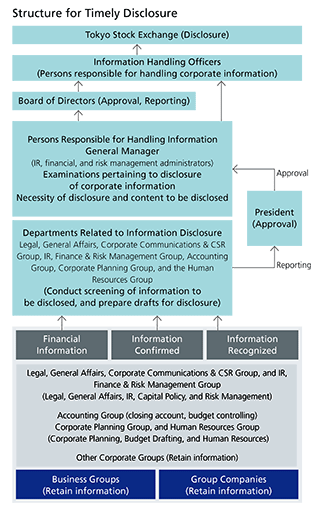 SCSK recognizes that a high level of management transparency is an important component of corporate governance and, as a measure to ensure this transparency, has established the following system for the disclosure of corporate information. Through this system, we work to disclose information in a timely, appropriate, and fair manner.
1. The Legal, General Affairs, Corporate Communications & CSR Group; the IR, Finance & Risk Management Group; the Accounting Group; the Corporate Planning Group; and the Human Resources Group carry out the effective collection of information that is subject to disclosure, screen what is to be disclosed, and prepare drafts for disclosure.
2. Upon receiving authorization from the president, information handling officers—the persons responsible for supervising the management and disclosure of information—confirm the content and determine whether disclosure is required.
3. The information handling officers appropriately disclose corporate information after receiving approval from the Board of Directors when necessary.
Communication with Shareholders and Other Investors
SCSK regards investor relations (IR) activities as a way to establish a constructive relationship with capital markets and build trust in relationships with shareholders and other investors though the timely, fair, and voluntary disclosure of corporate information. A director has been assigned responsibility for conducting IR activities. Centered on this director, the Company has established internal systems for ensuring the appropriate and timely disclosure of information on corporate activities for shareholders and other investors. In terms of actual communication, we work to facilitate direct discussions between this director and shareholders and other investors whenever possible. In addition, SCSK positions IR activities as strategic activities for the enhancement of corporate value and is therefore actively promoting IR activities. Specifically, the Company holds quarterly briefings on financial results and plans and conducts briefings on business activities and business strategies as appropriate. In addition, SCSK makes efforts to regularly conduct road shows to visit overseas investors and expand the range of IR-related information disclosed on the Company website.
Recognized in the 2016 Awards for Excellence in Corporate Disclosure by the Securities Analysts Association of Japan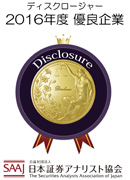 SCSK was selected as the No. 1 company in the computer software division for the third consecutive year at the 22th annual Awards for Excellence in Corporate Disclosure (fiscal 2016) hosted by the Securities Analysts Association of Japan.
This selection system was established by the Corporate Disclosure Study Group of the Securities Analysts Association of Japan for the purpose of promoting and improving the disclosure of corporate information. SCSK received high recognition in all five categories:
1) management's approach to IR, functions of IR divisions, and basic stance for IR; 2) disclosure of information at briefings and interviews and through explanatory documents; 3) fairness of disclosure; 4) disclosure of corporate governance-related information; and 5) voluntary disclosure of information that conforms to the conditions of each industry.