Basic Approach and Action Policy
Promoting Initiatives Together with Partner Companies
As the economy globalizes, in recent years labor problems and environmental issues at companies in emerging and developing countries have begun to draw increasing attention worldwide. Companies linked to these issues through their supply chains are required to actively address and solve them. In the IT industry, it is common practice to outsource operations to system development companies in emerging and developing countries, which makes it important for the IT industry to deal with labor and environmental problems in the global supply chain.
As a general practice in system development projects, work for customers is contracted out to several contractors, which then in turn often subcontract their work to subcontractors in more pieces. Therefore, unless the company placing the order manages the projects properly, compliance risks such as information leaks and fake contracts for work could emerge, in addition to quality issues.
To do business, SCSK Corporation ("SCSK") outsources its operations to many contractors, and as such it strives to check the situation at the contractors in its supply chain by asking them to manage risks associated with human rights, working environments, compliance, and other areas. Positioning contractors as "partner companies" that play a role in providing safe and secure IT services together, SCSK will ask for their cooperation in its CSR initiatives. As a company that handles information, an important asset for customers, SCSK also believes that it is important to encourage partner companies to fully enforce information security and compliance, improve the quality of operations, and engage with work style reforms and health and productivity management.
To consider these social responsibilities in its purchase activities, SCSK has established the "Supply Chain CSR Policy"
SCSK will continue to engage in CSR activities together with its partner companies, to help the IT industry develop into an attractive industry that brings together excellent, talented human resources by working responsibly on social issues in Japan and overseas.
Purchasing Guidelines and Policy on the Qualification of Our Partner Companies
SCSK will conduct purchase activities in accordance with the Purchasing Guidelines below, based on the concept in the Supply Chain CSR Policy.
SCSK has also asked partner companies that share its mission of providing safe and secure IT services to make efforts in CSR based on its purchasing policy.
Purchasing Guidelines
Challenge
Aim to always improve quality and productivity through purchasing activities
Implement working style reforms together with partner companies to create an IT industry that attracts people
Commitment
Comply with laws and social norms and carry out purchases that consider social responsibilities
Build an effective and efficient supply chain fully mindful of sustainability
Communication
Strive to build mutual understanding and trust through dialogue
Policy on the Qualification of Our Partner Companies
1. Soundness of management
Having the ability to secure business continuity with a stable business base.
Working on active information provision and disclosure.
2. Promotion of work style reforms
Aiming to become a "company with a pleasant and rewarding" where all employees can work with enthusiasm.
Actively promoting efforts to improve the work-life balance.
3. QCD
Exercising quality control based on standards set by SCSK (on its own) or equivalent criteria (Quality).
Setting appropriate prices based on high productivity (Cost).
Consistently meeting deadlines (Delivery).
4. Information security
Working to provide safe and secure services by promoting the full enforcement of information management and the enhancement of information security.
5. Compliance
Conducting fair trade by complying with laws, regulations and social norms.
Not engaging in transactions with anti-social forces.
6. Partnership
Working to promote mutual understanding and build a relationship of trust by respecting each other.
Creating our future of dreams together through technical innovations by working hard together.
7. Social responsibility
Striving to develop a sustainable society by fulfilling our corporate social responsibility.
Management related to Cooperation with Partner Companies
SCSK announces and explains its policies through briefings, etc. to partner companies so that it can work with them on CSR in an integrated manner. SCSK is also working on monitoring, including field validation, to understand the status of efforts at partner companies.
To proceed with these initiatives, SCSK has identified areas to address together with its partner companies, in order to encourage a shared understanding with them.
Building Relationships through the Core Partner Program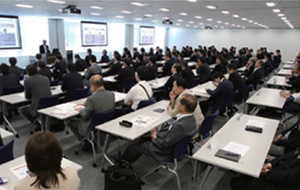 Fiscal 2018 Core Partner Conference
SCSK designates its main partner companies that help it achieve higher quality and productivity and engage in continuous and stable transactions as core partners. We share SCSK's business policy with these core partners so that they engage in business transactions with an understanding of the direction of our business.
We mutually assess each transaction with our partner companies in an effort to improve operational quality. In addition, we constantly work to build relationships with partner companies, which includes holding meetings on working style reforms to exchange information.
At the Core Partner Conference held annually, executive management from SCSK and its partner companies meet to share information and network.
Through these initiatives, we are working hard to build trust with our core partners.
Collaboration with Partner companies
Improving Quality and Productivity
SCSK is constantly working to improve quality and productivity not only within the company, but also together with partner companies.
We encourage partner companies to introduce the SCSK development standards (SE+) so as to improve quality levels, and we ask that core partners work with us in the SCSK standard development environment, which includes the super high speed development tool called FastAPP and the cloud-based development environment called PrimeCloud for Developers.
Moreover, we assess quality and productivity together with our partner companies on a project by project basis. In turn, we analyze and utilize the results in an effort to continually improve quality and productivity together.
Introduction of Working Style Reforms
SCSK is introducing working style reforms together with partner companies in order to create an IT industry that attracts people.
First, we established the Working Style Reform Promotion conference together with core partners, which we will now hold regularly. At these meetings, we share indicators such as average overtime hours and the rate of consumed annual paid vacation days and present specific efforts and achievements. This ensures we are all working toward creating workplaces that are even more comfortable. We also set up a consultation desk for core partners that supports and facilitates their adoption of working style reforms.
We are now undertaking similar initiatives with other partner companies as part of our ongoing commitment to make the IT industry a more comfortable and attractive industry.
Strengthening Information Security and Thorough Compliance
SCSK requires that its partner companies fully comply with its Information Security Guidelines when they handle important information assets of its customers. We monitor business partner compliance regularly using confirmation sheets and, when necessary, we carry out field audits and instruct them to make fixes.
We also regularly hold briefings on information security and compliance for our partner companies. During these briefings, we give an update on information security guidelines, related laws and legal revisions to ensure and strengthen both information security and compliance. Inside the company, we provide similar information security and compliance training for outsourcing and conduct in-house checks.
Going forward, we will continue taking the necessary steps to ensure robust information security and compliance so as to earn the trust of customers and society.
Message from a Business Partner
Backed by its development capabilities and operational know-how cultivated in the financial industry, TOHO SYSTEM SCIENCE CO., LTD., handles a wide range of services, including system development, operation, and maintenance, as a Core Partner of SCSK.
By actively taking initiatives to change the way employees work and promoting health and productivity management, SCSK is changing the way IT engineers work. I feel that these efforts are greatly contributing to improvement of the IT industry's status, and TOHO SYSTEM SCIENCE wholeheartedly approves of their efforts. Under our medium-term management plan, we aim to improve employee satisfaction and productivity. As such, we will work with SCSK going forward to reform the way our employees work as well as the work–life habits in the IT industry as a whole.

Nobuo Murakami
President and COO
TOHO SYSTEM SCIENCE CO., LTD.
Message from a Business Partner
Despite the current era being characterized by such trends as cloud computing, big data, and IoT, the IT industry is still an unpopular area for employment, a situation I had always found most unfortunate. It was when I was struggling with this concern that I had the opportunity to hear about SCSK's reforms of working styles. Hearing of these reforms made me realize the value of conviction in inspiring employees, how important it is to reiterate your beliefs repeatedly, and reminded me of the necessity of a strong passion to change the world. I now feel empowered toward transforming the IT industry into a more appealing area for employment, and I hope to promote reforms of working styles together with SCSK and other partner companies to realize this goal.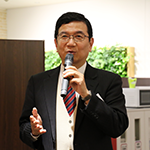 Shigeyuki Onishi
President
Computer Institute of Japan, Ltd.