Personal Information Protection Policy
As a company which provides creating new value and supporting businesses' global development with a full range of IT-related services, SCSK Corporation recognizes the importance of the protection of personal information and is committed to ensuring compliance with the laws regarding handling of personal information and other guidelines and norms established by administrative authorities. In addition to this, we have established the following Personal Information Protection Policy and will ensure that every executive, employee, and person involved in the corporation's activities will comply with this policy.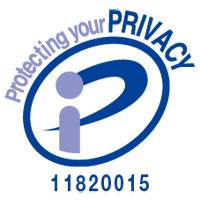 1. SCSK Corporation has established a personal information protection management system (a management system which confirms and reviews personal information protection policies, framework, plans, implementation, and operation) and will implement, maintain, and continuously improve this system.
2. SCSK Corporation takes sufficient measures to ensure that personal information is obtained, used, and provided appropriately, in compliance with all relevant rules and restrictions, and that it is not used for any purpose other than those stated.
3. SCSK Corporation takes all necessary and relevant measures for managing the security of personal information, and prevents or corrects any divulgation, damage, or loss of personal information.
4. SCSK Corporation will respond appropriately and quickly to any complaints or questions about personal information, and strive to resolve any problems which may arise.
If you have any inquiry regarding the contents of this Privacy policy, please use the form which will display by clicking the "Inquiries" button below and sent it.
Established: Nov. 8 1998
Revised: April, 15 2018
SCSK Corporation
Takaaki Touma, Representative Director, President
About SCSK Corporation's handling of personal information
Basic Principles
In addition to adhering to the Personal Information Protection Policy, we comply with the items below concerning the handling of personal information. When collecting any personal information from customers, we will make clear the purpose of use and provision of this information before obtaining it. Collected personal information will only be used for the purposes stated in advance when obtaining personal information from customers. If it becomes necessary to use personal information for any purpose other than those stated at the time of collection, we will obtain the person's consent and complete the necessary procedures.
Purposes of use
We will use personal information for the following purposes. Please note that if any purposes of use are notified or announced separately, these purposes of use will also apply.
Type of personal
information
Purposes of use
Personal information of our customers(*4)

Business communications with customers
Performance of agreements
〔ex.Using personal information subcontracted from a client in accordance with an agreement, to appropriately carry out information system development, maintenance, operation, and other related tasks〕
Providing product maintenance, support, after-service, and other types of services
Notice of products and services dealt by us and our group companies (*1)
Notice of seminars and exhibitions held by us and our group companies (as the sponsor, co-sponsor, or cooperator)
Response to inquiries and requests from our clients
Request for questionnaires of customer satisfaction

Personal information of our business partners and individual temporary workers

Identification of employees of our business partners and individual temporary workers for the performance of various agreements

Personal information of shareholders

Management of affairs related to the exercise of rights by shareholders and the performance of our obligations under the Company Act and other related acts and ordinances
Notice to request the shareholders to exercise their voting rights at the general meeting of shareholders

Personal information registered for CAMP activities(*2)(*3)

Notice of the information related to the CAMP activities. (e.g. e-mail newsletter)
Communications for CAMP activities

Personal information of employees and ex-employees

Personnel and labor management concerning employment and engagement of employees and confirmation of matters related to accounting and administrative affairs.
Personnel/staffing management for SCSK's executives and employees.

Personal information of applicants for employment

Communications, information provision, and administrative affairs for applicants for employment about employee selection.

Personal information and cookies we collect on this website(*5)

We analyze cookies etc. of customers have visited on this website in association with the personal information we hold, and use them for information provision and sales activities of our products, services, events, etc.

Other

Any other purpose for which we have notified a person and obtained the person's consent in advance
*1) The group companies shall mean companies in which twenty percent (20%) or more of the voting rights of the total shareholders is owned, directly or indirectly, by us.
*2) CAMP(Children's Art Museum & Park) is an SCSK Group social action program, which offers children opportunities to develop their skills to open their bright future in the workshop, a new learning style.
*3) If personal information is provided by a person under the age of 16, we ask for the approval of their parent or guardian.
*4) Personal information shall include the personal information that we receive or acquire through exchanging business cards.
*5) Please refer to [Tearm of use of Website] for changing cookie settings.
Subcontracting of personal information
There may be a case where we subcontract part of the business to a subcontractor for the purpose of smooth running of business, and disclose personal information to such subcontractor within the scope required for such purpose. In such an event, we will appoint a subcontractor who meets the standards established by us and will enter into an agreement with such subcontractor and/or appropriately supervise the subcontractor concerning the handling of personal information.
Telephone call recording
Telephone calls may be recorded to ensure that our telephone service is being conducted correctly.
Disclosure or provision to a third party
We will not disclose or provide personal information to any third party other than a subcontractor, or unless it is used in any of the following cases. ( In case where personal information includes the Individual Number, we will not disclose or provide it to any third party, unless it is used in the following items 3,4 and 5 ):
1. Prior consent has been received from the person;
2. Personal information is necessary for response to the customer's inquiry or for work tasks such as after-service concerning our products and services;
3. Disclosure of personal information becomes necessary for protection of the life, body, or property of anybody and it is impossible to obtain the person's consent;
4. We must cooperate with governmental agencies or local public entities in their performance of affairs provided for in laws or ordinances and there is a possibility that their performance will be impeded if we try to obtain your consent
5. Disclosure or provision of personal information is requested by law.
SCSK may send customers information on the products or services of our company or our Group companies which we believe may be beneficial to the customer, via e-mail or post. If you do not wish to receive such e-mails or letters, please contact us and we will cease such correspondence.
Complaint about the handling of personal information or request for disclosure, correction, suspension of use, or removal of personal information
A complaint about the handling of personal information or a request for disclosure, correction, suspension of use, etc. concerning one's personal information obtained by us should be directed to any of the relevant desks listed below by clicking the "Inquiry" button. Complete the form that appears and send it.
Such request will be dealt with within a reasonable period and scope after the sender's identity has been confirmed as the person or their agent. Please be aware that there may be a case where we cannot meet a request for suspension of use or removal concerning personal information owned by us pursuant to any applicable law. Please also be aware that requests for "disclosure" or "notice of purposes of use" may incur processing fees.
Chief Privacy Protection Officer
Tsutomu Ozaki
Senior Managing Executive Officer
Inquiries about personal information
SCSK Corporation Personal Information Inquiry Counter
Toyosu Front, 3-2-20 Toyosu, Koto-ku, Tokyo 135-8110