Together with its stakeholders,SCSK will work toward the creation of an affluent society under its aim of becoming a company that contributes to society through its business activities.
Sustainability Officer
Our Corporate Philosophy of "Our Future of Dreams" can only be achieved with a sustainable society. Therefore, we recognize that solving social issues is an urgent task.
For this reason, each employee must tackle challenges with enthusiasm (Challenge), we must take responsible actions while working on the issues directly facing customers and society (Commitment), and we must mutually respect and work with colleagues (Communication). At the same time, it is necessary that we remain in touch with society and maintain a continual awareness of the issues we face.
We use IT services to create new value and support the businesses of our customers. Making indirect contributions to society that help resolve social issues by solving the issues of customers is one aspect of SCSK's Sustainability activities.
We are now making progress toward building an affluent society through the synergies yielded from the IT services business and solutions to social issues.
Senior Executive Officer
General Manager
General Affairs, IR, Corporate Communications & Sustainability Group
Yasuhiko Oka
SCSK's CSR
Following our Corporate Philosophy of "Create Our Future of Dreams," the CSR activities of the SCSK Group are driven by strategic CSR for fulfilling responsibilities to society through our business activities, followed by CSR as a business platform where we comply with laws, social rules and address situations beyond laws, and social contribution activities that help us to deepen our relationship with society as a good citizen.
Fulfilling social responsibilities through our business activities involves solving social issues through our businesses while deepening engagement with each category of stakeholder in an effort to help develop a sustainable society. We believe the process of generating social value, such as creating and providing solutions for complex social issues, enhances corporate value.
IT has helped to solve a number of social issues over the years, and today the importance of IT continues to grow. The SCSK Group actively utilizes advanced IT such as AI, IoT and FinTech in research aimed at innovation creation and in developing new businesses. The act of creating brand new value and helping solve social issues represents the fundamental essence of the SCSK Group's businesses as well as the social responsibility we must fulfill.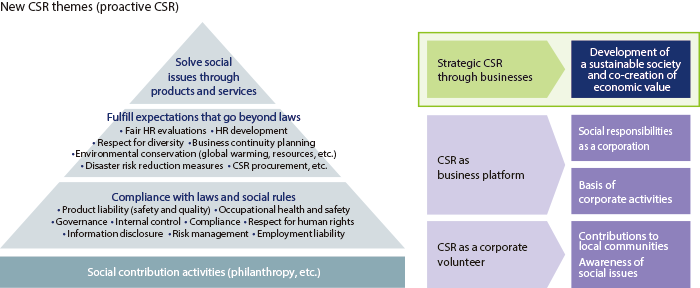 Systematic Sustainability Activities Geared Toward Becoming the Company We Aspire to Be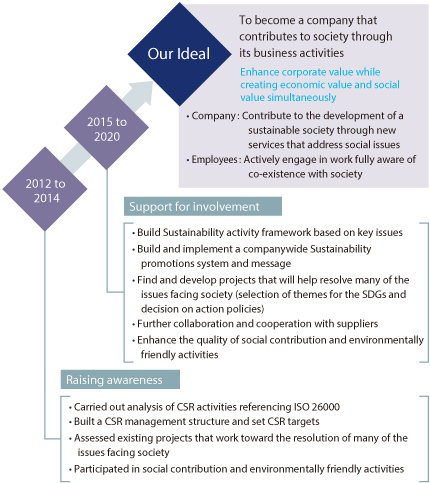 SCSK promotes systematic Sustainability activities with the aim of becoming a company that contributes to society through its core business.
From fiscal 2012 to fiscal 2014, we referenced international guidelines such as the U.N. Global Compact and ISO 26000, as we made efforts to analyze current global conditions and establish an administration structure.
To promote our Medium-Term Management Plan from fiscal 2015 and on, we held debate over key issues of Sustainability with cooperation from our diverse range of stakeholders.
Observance of International Guidelines and Principles
SCSK observes international guidelines and principles in its Sustainability activities.
U.N. Global Compact
SCSK has been participating in the U.N. Global Compact since 2007. We support the Compact's 10 principles relating to human rights, labour, the environment, and anti-corruption, and reflect this support in our business activities.
Sustainable Development Goals(SDGs)
SCSK is preparing to begin making contributions to the accomplishment of the Sustainable Development Goals (SDGs) set forth by the United Nations in 2015.
ISO26000
SCSK has been practicing management based on the core subjects of ISO 26000 since 2012, and each division is working toward the related Sustainability goals it has defined.
Global Reporting Initiative Guidelines
SCSK's integrated reports and the Sustainability activities reports available on the Company's corporate website were constructed while referencing the Global Reporting Initiative (GRI)'s Sustainability Reporting Guidelines, Fourth Edition (G4).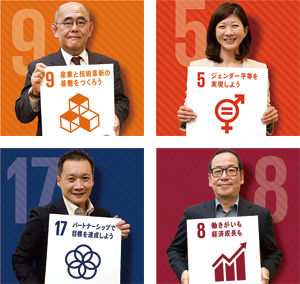 Poster featuring executives and employees as models
Initiatives for the SDGs
We are now making preparations in order to contribute to the fulfillment of the United Nations Sustainable Development Goals (SDGs). In fiscal 2016, we held a seminar for employees on the SDGs as a way of raising awareness internally. This seminar educated employees about the SDGs and what SCSK can do to contribute to the effort. We have also provided training to senior management about the SDGs. Meanwhile, we created posters to promote the SDGs and displayed them inside the company to raise awareness.