Diversity
SCSK puts emphasis on diversity in order to turn the various personalities and senses of values of its employees into organizational strengths and to enable these employees to maximize their capabilities so as to create innovative services and enhance corporate value. We are working to support women's career advancement, to employ people with disabilities and assist their activities, and to hire non-Japanese employees. At the same time, SCSK provides a wide range of work–life balance support measures to help employees continue working, even when raising children or providing nursing care for family members. Through these efforts, SCSK is creating a workplace environment that allows all employees to perform their jobs while exercising their skills and their individuality, regardless of age, gender, disability, or nationality.
Realization of Diversity in the Truest Sense
Promoting diversity requires us to be aware of the various ways of thinking and looking at the world that are held by our diverse range of employees and to be accepting and respectful of these differences. As one measure for facilitating this kind of understanding, SCSK held a special diversity seminar in June 2015. Conducted by an outside lecturer and attended by around 300 employees, this seminar was aimed at informing a large body of employees about diversity initiatives. In addition, in fiscal 2016 we implemented a diversity e-learning program, which all employees are required to take.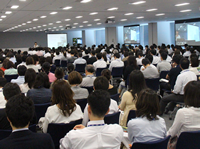 Special Diversity Seminar
Promotion of Women's Empowerment in the Workplace
In addition to human resources development and working style reforms, we have actively sought to develop work-life balance support programs in an effort to become a company where female employees can contribute their talents so that they can achieve work-life balance without over extending themselves. Among these, we are focusing on working style reforms that reduce overtime and make taking paid vacation easier so as to eliminate prolonged working hours, which have become a major obstacle to women's empowerment. We have set a goal to have a combined total of 100 female executives and line managers in fiscal 2018 to encourage the greater involvement of women in the workplace. We also support women's career development through training focused on the challenges faced by women of each generation.
Encouragement of Further Involvement of People with Disabilities
Tokyo Green Systems Corporation (tgs) was established in 1992 as a third-sector enterprise through a joint capital investment by the Tokyo Metropolitan Government, Tama City, and SCSK. This company is a model company for the employment of people with severe disabilities. As a special subsidiary of SCSK, tgs also promotes the SCSK Group's employment of persons with disabilities and is committed to upholding the principles of participation, independence, and coexistence. It is headquartered at SCSK's Tama Center Office and focuses on janitorial service, park maintenance, agricultural work, and restaurant service operations as well as staffing of in-office concession stands, collection and delivery services, and other businesses. We have also established Relaxation Rooms (massage facilities) at our major offices, where tgs employees with visual impairments serve as in-house massage therapists.
Promoting the Active Involvement of Employees Over the Age of 60
We have established an employment program that enables employees aged 60 or older who desire to continue working at the company until the age of 65. We are working to provide diverse career options and opportunities to learn about career planning and life planning for employees in their 50s and 60s to help ensure the economic stability of employees in their old age. We also aid employees in their efforts to accumulate the assets necessary for realizing their life plans.