Management That Fully Exercises Our Employees' Potential
To achieve consistent growth over the medium to long term, it is vital that all of our employees are healthy, active, and have a sense of purpose. SCSK is united in its commitment to create such an environment across all of its organizations. Under the strong leadership of senior management, we were among the first in the industry to usher in working style reforms focused mainly on cutting back overtime hours and increasing the rate of consumed annual paid vacation days. Our efforts have begun to see steady successes and now we are seeking to build on them.
Working Style Reforms Launched in Earnest by Management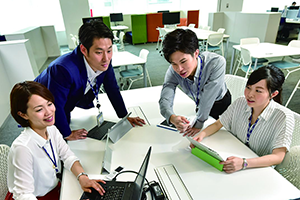 At the time SCSK was formed, the executive management team made a declaration to reduce working hours while generating greater added value than before in order to become a company with a pleasant and rewarding workplace.
To break through the stereotype that the IT industry and overtime work go hand in hand, we were among the first in the industry to create a vision and work in various ways toward equalizing workloads and assigning the right people to the right jobs. After developing the necessary systems, we have fostered a culture that believes in working efficiently in a well modulated way, instead of simply working long hours.
Smart Work Challenge for Working More Efficiently and Dokodemo WORK as a New Working Style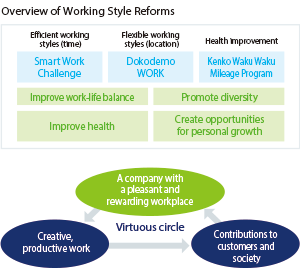 In April 2013, we launched Smart Work Challenge 20 as a companywide initiative, under which various measures were taken with the goal of having all employees take all 20 days of annual paid leave and reducing the average monthly overtime hours to less than 20 hours.
Specific initiatives aimed at improvement were considered and implemented individually by each department. This format had the added benefit of helping invigorate workplace communication and improve teamwork and organizational strengths, which led to further innovation. In 2016, we launched a Dokodemo WORK (Work Anywhere Project) initiative as a new working style.
This involves improving employees' work-life balance by promoting teleworking. We are gradually expanding the scope of eligible organizations and will soon roll out this initiative companywide after identifying and remedying any issues.
Further Evolution in Working Style Reforms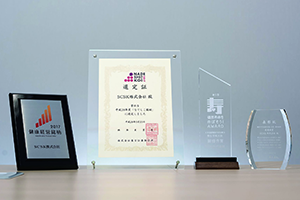 Our activities to date have raised greater awareness within SCSK about cutting back on working hours and improving operational quality. In July 2015, we made changes to our personnel system, including expanding the discretionary labor system, so that employees rethink the way they work and achieve greater successes.
These initiatives have been lauded outside the company, and, as such, we would now like to share these practices not only with peers in our industry, but also with Japan as a whole, including other industries, to encourage similar working style reforms.
Meanwhile, in addition to the working style reforms we currently have underway, we aim to be a company where all employees, regardless of gender, age or nationality, are mentally and physically healthy, actively contribute, and feel a sense of purpose.