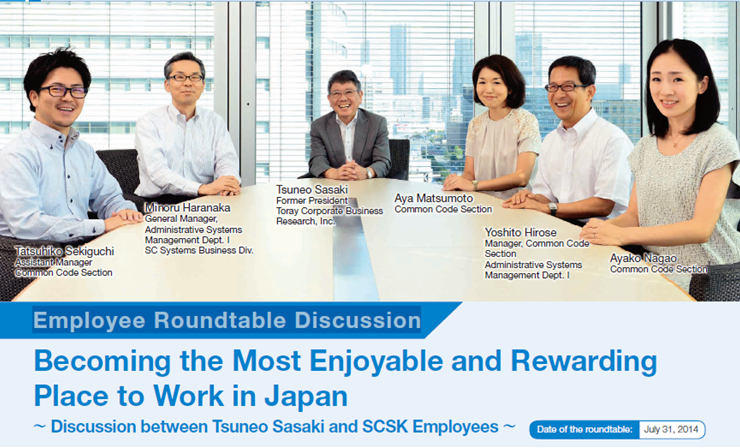 SCSK has been implementing Smart Work Challenge 20, which is a companywide initiative that aims to create an enjoyable place to work . Representatives from the Administrative Systems Management Dept. I, SCSystems Business Div., which achieved signifi cant results in the reduction of overtime work and improvement of the rate of consumed paid vacations in FY2013, got together for a roundtable discussion. They invited Mr. Tsuneo Sasaki, former President of Toray Corporate Business Research, Inc., who is deeply knowledgeable about smart working styles, to join them in the discussion. They looked back on the progression of "smart work" at SCSK as well as acknowledged existing challenges and exchanged opinions from a broad perspective to further deepen related activities.
Toward Working Style Reform by Improving Communication and Working as a Team
M. Haranaka:

At our division, we promoted four measures for the reduction of overtime work under the Smart Work Challenge 20. They were: awareness-raising, streamlining meetings, utilizing shift work, and visualization. In regards to awarenessraising, we placed particular focus on having GMs, managers, and other superiors take the lead in changing the attitude that held that overtime work was the norm. In cases where overtime could not be avoided, we concentrated while working, and other than that we made sure not to stay late at the offi ce. We emphasized this kind of working style, where we worked hard during hours. Meanwhile, to streamline our meetings, we shared the topics for debate in advance and ensured that each participant prepared their thoughts and opinions before they came to the meetings.

Y. Hirose:

We've seen very good progress in shortening the length of meetings. We also decreased the number of meetings that are held. For example, the meetings that were held three times a week according to the theme were consolidated into one meeting. Once we tried it, we saw that the consolidation caused virtually no problems. As a matter of fact, it worked the other way around. The content of the discussions became more in-depth as a result.

M. Haranaka:

I think that adopting shift work was also a very effective measure. In the past, we used to do overtime to carry out the operation and maintenance of systems that could only be done at night. We changed our way of thinking, and when such work is necessary, we have people come into work at a later hour. Furthermore, we made the state of the progress of everyone's individual work as well as use of paid vacations visible by putting them together in a timetable. This made it possible for us to check how others were doing to see if there were any problems, and ensure that everyone would be able to use up their annual 20 days of paid vacation time.

Mr. Sasaki:

It is quite remarkable for an IT company to have reduced overtime work to 22 hours a month. This is not something that can be realized if you leave everything up to each department or if it is only top management that fervently advocates the idea. Developing a clear policy as a company, like the one we see in the case of the Smart Work Challenge 20, and presenting them for those on site to develop further was, I think, a really on-target way of doing things.

T. Sekiguchi:

When I fi rst heard that the Company was aiming for the 100% consumption of paid vacations, I wondered if we could really do it. However, once the initiative started, we found that better communication naturally resulted. A person would say, "I'm thinking of taking this day and this day off this month," and we would coordinate things around it without any major problems arising. However, because we can't allow business to come to a halt when we take days off, it became important to share the content of our work with other members so that they can handle it in your place.

F. Matsumoto:

Communication between us has certainly increased and become better. To ensure that operations will progress smoothly within a limited amount of time, we communicate and discuss even the smallest thing with others. During breaks, we now also talk a lot about things outside of our work.

Mr. Sasaki:

Good communication and relationships of trust become the drivers of effi cient work. It is extremely important that each of us knows what others are doing—what they are involved with at the moment, what kind of problems they may be facing, and how they feel about their work. There is nothing more ineffi cient than workplaces that lack good communication and have no relationship of trust built. Such cases may often result in things that are not required being done due to a lack ofunderstanding or through misunderstandings.
Creating Workplaces that Realize Both Operational Quality and Enjoyment
F. Matsumoto:

I utilized short-time work days for childcare purposes, and I greatly appreciate the companywide movement toward the shortening of hours worked. Because there are people who may go home earlier than I do due to shift work and because it is an environment in which everyone takes their paid vacation time in full, I feel less hesitation toward those around me. I don't feel bad about leaving early or feel that I am causing problems to others by taking time off.

A. Nagao:

The Smart Work Challenge 20 began the year I was on pre-birth and post-birth maternity leave and childcare leave. I learned about the various systems that were put in place one after another through the materials that arrived from the Company. My husband works as a sole proprietor so he was extremely busy. He could barely participate in childcare. At one point, I was wavering between continuing to work or leaving the company and focusing on taking care of the family. However, I changed my thinking and decided to stay because I saw how SCSK was changing signifi cantly, and I thought that under such circumstances, I would surely be able to continue working while raising my child.

Mr. Sasaki:

By preparing an environment that makes it easier for employees to balance their work and their families, a company can avoid losing talented individuals. On the other hand, workplaces where people take leaves because they have mental health breakdowns pose a major risk for the company. In that sense, creating as good a working environment as possible is an important managerial challenge.

F. Matsumoto:

Once-weekly teleworking was commenced from January 2014. By allocating the two-hour roundtrip commute time avoided to work hours, it also became possible for me to carry out full-time work. I was the fi rst person in my division to telework. However, close communication by telephone and e-mail makes it possible to work from home as if I were at the offi ce. With this said, the operations that can be handled through telework are still limited. I think that preparing an environment conducive to teleworking should make it even easier to utilize.

M. Haranaka:

One of the characteristics of our division is that we are allowed a greater amount of discretion in regards toour working hours and working style so long as we are able to provide high-quality services to our customers. Of course, to do so, it is essential that we accumulate a great track record by maintaining the high level of our services regardless of internal circumstances so that our customers think that everything will be all right if they leave matters up to SCSK.

A. Nagao:

Although the Smart Work Challenge 20 is a companywide initiative, I feel that there is a difference, depending on the division, in how well concepts like those related to work-life balance have spread. I believe that I am in a very fortunate environment. However, there still is probably a difference depending on the division in how systems, such as teleworking, are proactively recognized.

Mr. Sasaki:

That is one of the challenges—how to do away with those kinds of differences in awareness within the Company. I often hear comments like, "We work with customers so it is diffi cult to make adjustments," at other companies. But, you know, that is an incorrect assumption. What is important is that you are one step ahead of customer requests and are ready for them when they arise. If you can obtain information in advance in regards to what kind of request customers will make and the timing, and if you take measures that will respond to those requests, then you should be able to promote taking paid vacation time and reducing overtime work at any kind of workplace.
The Resulting Spare Time Will Promote the Further Growth of Employees and the Company
Y. Hirose:

I think that SCSK's corporate philosophy, "Creating Our Future of Dreams," is an extremely good one. In order to aim towards a future of dreams, there is a need for people to cultivate themselves. I'm in my 50s now, but I place importance on maintaininga desire for self-improvement and continuing my studies along with being mindful of my health. I also think that as a manager, one of my challenges is documenting the work being carried out and sharing the know-how so that work does no become overly dependent on individual skills. Going forward, it is going to become increasingly important to create a system that enables people to cover the work being carried out by others in their absence.

T. Sekiguchi:

Now that there is a bit more spare time created in our lives through the streamlining of operations, I believe that what will now become important is how we spend the free time that has been created. On the days that I get home early, I use my time studying for the information processing engineer exam; I am aiming to be certifi ed. As for my paid vacation time, I spend it on things like traveling overseas. I want to value this kind of thing even more than before because there is much that I gain in terms of new ideas by placing myself in a different environment.

A. Nagao:

My foremost wish is to value time with my family even more so that I can make my life a rich one. I think the people at my workplace are seeing great success in regards to achieving worklife balance. I hope to promote reforms like those at SCSK toward my husband's job. For him, working long hours is pretty much accepted as the norm.

Mr. Sasaki:

I would like to see everyone having high aspirations and loving their lives. Opportunities to take another look at one's working style are gradually increasing in society. I am sure that it will speed up as good examples like those at SCSK are shared more widely. I hope that you will not only reinforce your internal efforts but also spread the word about those efforts more proactively toward society.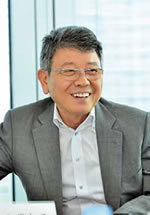 Tsuneo Sasaki
Profile
Graduated from The University of Tokyo's Faculty of Economics in 1969. After joining Toray, he was involved in various business reforms, such as the restructuring of failed companies, while caring for his sickly eldest son and wife. His performance was recognized, and he became the fi rst among his peers to become a member of the Board of Directors. He later became President of Toray Corporate Business Research, Inc. He has written many books and gives lectures on topics such as the way business should be managed, work-life balance, diversity, and leadership.