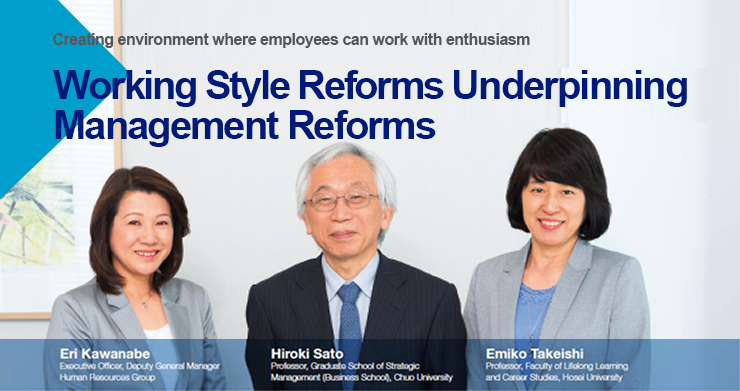 With the aim of always providing a pleasant, rewarding workplace environment, SCSK is reforming working styles based on the four themes of work–life balance, diversity, health and productivity management, and human resource development. For this discussion, we sat down with human resource management expert Professor Hiroki Sato of Chuo University's Graduate School of Strategic Management (Business School) and Professor Emiko Takeishi of Hosei University's Faculty of Lifelong Learning and Career Studies. These individuals shared their opinions with Eri Kawanabe, Executive Officer and Deputy General Manager of the Human Resources Group, to assist SCSK in evolving working style reforms in the future.
Overtime and Paid Vacation Targets Nearly Met Due to Senior Management-Led Organization-Wide Efforts
Sato:

In recent years, a number of companies have introduced telecommuting, discretionary working systems, and other systems designed to enable flexible working styles together with frameworks for evaluating employees' performance based on results rather than time worked. However, for these initiatives to be successful, all employees need to become more sufficient with regard to self-management, and originally what is becoming an issue is, whether working style as a full-time worker is appropriately practiced or not. SCSK, I believe, adopted an ideal approach, as it first changed the manner in which full-time staff work. Specifically, the Company cut back on overtime hours, and effectively promoted the acquisition of paid vacation days. After that change, SCSK expanded the scope of application of its discretionary working system, thereby making it a model for success.

Takeishi:

The Smart Work Challenge program SCSK launched in 2013 was advanced by first cultivating a shared understanding with regard to the program's goals, the value of accomplishing these goals, and the ideal form to be realized in this process. Specific initiatives were developed at each business division or department level. Would it not have been better to hand down measures from management based on a unified and unwavering philosophy?

Kawanabe:

The initiatives developed at each business division or department are for basic areas of operations, such as efficient work allocation, through close communication between supervisors and their subordinates. Top management does hand down messages, and divisions in which the general managers and section managers have taken these messages to heart are generating results. I feel that this process has been directly responsible for improvements in quality and productivity.

Sato:

Even if top management issues messages, there is no guarantee that general managers and section managers will adhere to them. How did you create frameworks to ensure that the directions of management are followed?

Kawanabe:

The first step was to simultaneously set the goals of cutting overtime work hours and encouraging full use of annual paid vacation days through the Smart Work Challenge. Having all employees use all of their annual paid vacations while preventing the quality of services provided to customers from being diminished required that operating processes be revised to optimally allocate work between employees. At the same time, we utilized all of the funds saved by cutting overtime hours, and consequently overtime compensation, to provide special bonuses to employees. I believe that this measure made it apparent to employees that the goal of reducing overtime hours was not so much to cut costs, but rather it was because we truly care about ensuring our employees are working in a healthy manner. Furthermore, the figures for overtime hours worked and paid vacations days acquired that we disclose are for all employees, including general managers of divisions, departments, and other managerial staff. In other words, we are pursuing workflow efficiency throughout the entire organization, and managerial staff members are expected to consider the efficiency of their own work as well. I am highly pleased with the sense of employee solidarity that has been fostered through these initiatives.
Custom-Tailored Career Support for All Employees to Help Achieve Career Independence
Takeishi:

With regard to human resource development, it is important that employees feel motivated toward their work and have goals and a desire to grow. How is SCSK facilitating the development of human resources?

Kawanabe:

Approximately 80% of SCSK's employees are IT engineers. For these employees, we provide an internal certification system consisting of seven levels based on the Skill Standards for IT Professionals defined by the Ministry of Economy, Trade and Industry. Mid-level engineers, those who have acquired level four or higher certification, are evaluated by exceptionally talented IT-related employees selected from throughout the Company, who provide these engineers with custom-tailored advice about their strengths, weaknesses, and the skills they need to acquire. This system helps provide a framework with in which engineers are able to plan their career over the next three to five or even 10 years.

Sato:

The current era is one in which it is difficult to predict future trends with regard to the market environment and other factors, and this situation is changing the type of skills that companies require. Employees must be aware of this fact. It is never enough to simply continue doing what one always has, and it is crucial to possess the flexibility necessary to adapt to a changing environment together with a learning capacity and a wide range of skills. For this reason, employees need to continue to learn and grow. It is therefore important for companies to provide their employees with time that can be devoted to tasks other than work, and to acknowledge the accomplishments of employees that choose to study on their own. At the same time, it is vital for companies to help their employees realize that there are types of study that will be an asset to their careers five or 10 years in the future.

Kawanabe:

I think you are absolutely right that it is important to continue learning and growing in preparation for the future. SCSK hopes that employees will use the extra time created through working style reforms to further their own growth. In addition, we plan to expand the scope of Career Trainings, which serve as an opportunity to think about one's career and acquire specific career development tools, and are currently in the process of enhancing the curriculum for these workshops. We are also examining possible options for creating frameworks that will provide opportunities for self-development in a broad sense. Not only limited to the internal trainings and qualification systems we have offered previously, these opportunities may include external forums for technology exchanges or volunteer activities. Initiatives such as these will be a priority going forward.
Creation of Framework to Further Promote Women's Active Role within the Workplace has Raised Awareness and Ambitions of Female Employees
Takeishi:

Looking at Japan as a whole, it saddens me to say that women's participation in managerial positions is still quite low. How is SCSK working to address this issue?

Kawanabe:

In 2015, the number of female employees in managerial positions exceeded 50, and the amount of women that are actively balancing their work life with child-rearing is growing steadily. While it has been a process of trial and error, we have pushed forward with working style reforms with the aim of reducing overtime and cultivating a workplace environment in which it is easier for women to make contributions. I believe it is these efforts that have led to these successes in empowering female employees. I also feel that the awareness and ambitions of female employees themselves is rising. This is largely a result of our efforts to foster understanding with regard to the idea that women can continue to advance their careers without any anxiety even after having children. This has been done by providing career training for female employees and giving them opportunities to network with more senior employees that can serve as role models, thereby allowing them to witness various different ways in which women can be active in the Company.

Sato:

Several companies provide short-time workday systems to aid in child-rearing, meaning that female employees can continue to balance their work with looking after their children so long as they use these systems. However, it is still common for these individuals to be unable to return to work full-time due to the prohibitive amount of overtime this would entail. SCSK is advancing working style reforms on a Companywide basis, and I therefore believe that female employees will likely be able to quickly switch over to full-time after returning from childcare leave. This is a good start, but it is also important to ensure that the ability for women to continue working is not limited to certain divisions.

Kawanabe:

That is a good point. We are seeing a rise in the number of female employees that quickly go back to working fulltime after returning from childcare leave. Moving forward, we hope to help these individuals further hone their specialized skills so that they may make greater contributions to the workplace. We are enhancing training systems to this end, and I look forward to seeing how these employees grow over the future.
Entrenching Working Styles that Value the Health of All Employees
Kawanabe:

SCSK has also been active in helping employees improve their health. To step up these efforts, we introduced the Kenko Waku Waku Mileage program in fiscal 2015. This program is designed to raise health awareness and encourage employees to adopt healthier lifestyles. To accomplish this, we issue monetary bonuses based on the degree to which an employee engages in health-conscious activities, the results of periodic health checkups, and the extent of improvement seen in these results.

Sato:

Taking a broader meaning for the term "health," I think it would be best to work toward ensuring employees can lead healthy and happy lives with regard to all areas of life, including those not associated with work.

Takeishi:

I was quite surprised to hear that "strongly agree" and "relatively agree" constituted 80% of the responses to the item"You are able to establish a good balance between your work life and private life" on the employee opinion surveys as this figure far exceeds the average for Japanese companies.

Kawanabe:

This figure was clearly changed after instituting the Smart Work Challenge program, and I am proud to state that this change can be attributed to the program's success.

Sato:

With the working style reforms in place, SCSK is now poised to move on to the next stage of employee empowerment. Going forward, I hope the Company will continue to support women's career advancement, practice diversity management, and help employees improve their lifestyles. It is my wish for SCSK to become the type of company where all employees enjoy their work, and lead exciting and fulfilling lives.

Takeishi:

I have nothing but praise for the speed at which SCSK has advanced reforms over the past two to three years. The IT industry is still a difficult industry to work in, requiring large amounts of overtime. I therefore hope that SCSK will share the secrets behind its successes in this area in order to contribute to improvements in working conditions across the IT industry, as this would carry great benefits for society.

Kawanabe:

I believe that there are still many areas in which SCSK needs to pursue improvement in order to fully entrench the working style reforms and truly become a pleasant and rewarding place to work. The advice and suggestions you have provided today will be used to further our quest toward becoming an even better company.

Hiroki Sato
Professor, Graduate School of Strategic Management (Business School), Chuo University
Hiroki Sato is an expert in human resource management and personnel labor management, and is a leading Japanese authority on work–life balance. He plays an integral role in the "Research Project toward Realization of a Work–Life Balanced Society," a project which conducts joint research with privatesector companies since October 2008, and he is carrying out speculative, empirical, and policy-related research on the relationship between work–life balance, diversity management, and corporate management.
Emiko Takeishi
Professor, Faculty of Lifelong Learning and Career Studies, Hosei University
Emiko Takeishi specializes in human resource management and women's career. After taking part in the establishment of the Equal Employment Opportunity Law at the Ministry of Labour (currently, the Ministry of Health, Labour and Welfare), she was involved in private-sector think tanks before joining Hosei University. She is currently engaged in empirical research in the areas of human resource management and career development for women, work–life balance, and working style reforms.