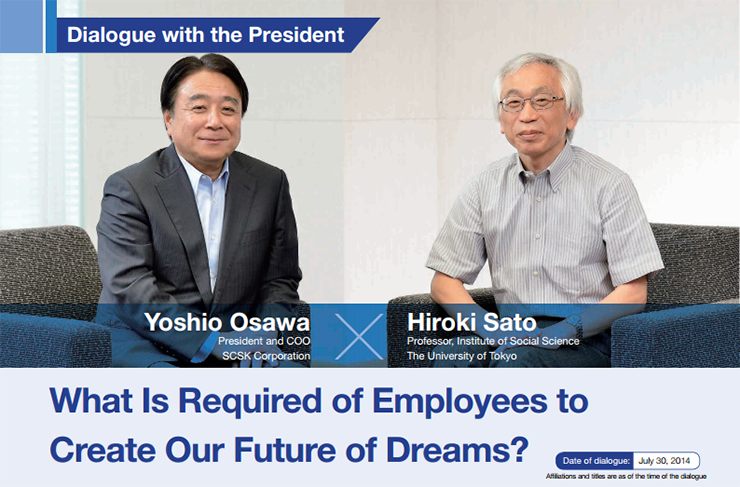 SCSK's fi rst promise under its corporate philosophy, "Create Our Future of Dreams," is "Respecting each other." Why is it that the Company places so much emphasis on human resources management? To examine the signifi cance and outcomes of SCSK's past initiatives afresh from an external perspective and lead it to future development, SCSK President and COO Yoshio Osawa held a dialogue with Professor Hiroki Sato of The University of Tokyo's Institute of Social Science. Professor Sato is an expert on human resources management.
Smart Work Challenge 20—Re-examinig Working Styles Brings about Business Reform
Y. Osawa:

Since the merger in 2011, SCSK has been promoting "Smart Work Challenge 20," which aims to reform working styles. At its root is the concept of "healthy management." Having employees who are in good emotional and physical health engage in their work with a "clear head" is indispensable for enhancing the quality and productivity of our operations. Along with our initiatives for quitting smoking or preventing metabolic syndrome, we have also been carrying out a thorough, companywide re-examination of working styles, and promoting streamlining and the reduction of the number of hours worked. As a result, average monthly overtime was reduced to about 22 hours in fi scal 2013, and the rate of consumed annual paid vacation has improved to 95.2%.

Prof. Sato:

It should be noted that SCSK continues to steadily increase its sales and profi t while shortening the number of hours worked. I think (that) this is extremely pioneering in Japan where the low labor productivity of companies is pointed out more often than not. Working style reforms bring about signifi cant changes to the lives of employees in areas outside of their work as well. Re-examining their lives and starting to enjoy leisure hours bring about a virtuous cycle in which fresh ideas that are obtained outside of the job have a positive impact on work.

Y. Osawa:

Exactly. When I was stationed in Germany, I noticed that local-hire employees went home every day on time. Instead of working overtime, they exhibited amazing concentration during offi ce hours. They achieved results during the fi xed offi ce hours, and once the day's work was over, they would have dinner with their families, and then go out with friends to enjoy sports like tennis, football, or cycling, go to concerts, and so on. Furthermore, they took their twice annual vacations (two months total) in full. They were really enjoying rich lives. In addition to enjoying eating dinner at home with their families, we are seeing an increase in the number of employees who are using the spare time created through the reduction of overtime work to engage in hobbies, enjoy playing sports, or even to obtain qualifi cations or brush up on foreign language skills. We use our in-house newsletter to introduce the diverse after-offi ce-hour activities of our employees so that other employees can draw from it.

Prof. Sato:

That is a wonderful idea. The reduction of overtime will be further accelerated if employees have clear incentives for doing so, such as wanting to eat dinner with their family, having things they want to learn, or hobbies they want to engage in.

Y. Osawa:

The quality of an employee's work will be signifi cantly enhanced if they manage their own time and are focused at work. At SCSK, we hold the "Innovative Idea Grand Prix"*1 (Ino-one GrandPrix), an internal business contest, every year so as to promote the creation of new business models that are distinctive of SCSK. Superior, innovative ideas do not arise if employees are constantly overwhelmed by work deadlines.

Prof. Sato:

The Ino-one GrandPrix is a good example of how working style reform also leads to business reform. Amid the accumulation of various issues facing society, I look forward to seeing IT services that will help solve such issues.

*1 Innovative Idea Grand Prix: Also known as Ino-one GrandPrix, this is a contest that calls for the submission of innovative business ideas by employees. The Company supports the commercialization of superior ideas.
Gaining the Understanding of Employees' Families, Business Partners, and Customers
Prof. Sato:

Now that the reduction of overtime work has greatly progressed, what will be needed going forward is to change, through the employees, the awareness of the families as well. For example, picking children up from daycare centers generally tends to be considered the mother's job. We are recently starting to see companies that invite the husbands of female employees to the company at which time they ask for the husband's cooperation at home. Wouldn't such measures be effective for SCSK as well?

Y. Osawa:

The promotion of work-life balance seems to be gradually spreading to the families of employees as well. The 36% increase in the number of employees who became pregnant with their second child is one indication of this. I think that this is the result of the spread of the awareness among SCSK employees and their spouses that it is possible for a woman to continue working while raising two children.

Prof. Sato:

The severity of the IT industry's working environment, such as long overtime work, has been pointed out for many years. That makes such changes even more meaningful. I hope to see SCSK take the lead in bringing about trends that change the whole industry.

Y. Osawa:

Under current circumstances, we still hear other companies within our industry say, "That would be impossible for us to implement" in regards to SCSK's initiatives. However, realizing an enjoyable place to work brings about a huge benefi t to the company—it makes it easier for the company to hire talented individuals. What is more, information leakage and other such matters are grave risks in the IT industry. It is not possible to nurture a sense of ethics and the loyalty of employees in a bad working environment. We have about 2,100 employees who work full-time at customers' offi ces. We back them up by explaining the SCSK policy to our customers and gaining their understanding. Of course, the major premise is that our employees will fulfi ll good performance regardless of the working hours.

Prof. Sato:

That may be a point that tends to be misunderstood. It is important that there is insistence on achieving results even while reducing overtime work and promoting the consumption of paid vacation time. The shortness of working hours does not mean that a job will be easy to carry out.

Y. Osawa:

That's right. The "enjoyable place to work" that we are pursuing is completely unrelated to easy, undemanding management. The objective is to increase productivity and effi ciency as much as possible so as to enhance operational quality while making it possible for employees to enjoy fulfi lling lives.
Towards further Enhancement of Enjoyable and Rewarding Places to Work
Prof. Sato:

You are already seeing high rates of consumed annual paid vacation time. I think your next step will be to aim for employees taking consecutive paid vacation days once or twice a year. When employees start to be away from their office for several days, it triggers the building of systems to deal with it, such as how information will be shared during that time or how those around the vacationing employee should deal with the situation. It becomes good practice for when individuals have to take leaves of absence later on, such as to provide nursing care for elderly parents.

Y. Osawa:

Yes. The issue of nursing care is a matter that SCSK has to think more seriously about going forward. Many employees who are concerned about providing nursing care for elderly parents are those who have important roles, such as management positions, within the Company. I believe that it is essential that we create a mechanism that ensures that operations will continue without interruption even if that person has to be suddenly absent from his or her workplace.

Prof. Sato:

Although leaves for nursing care can arise suddenly, a long-term leave is not required. It is probably better not to think of the leave as time spent for providing the actual nursing care. Rather, it should be thought of as the time required for the individual to set things up to make it possible to keep working while utilizing various nursing care services. The company should also try to stay a step ahead, such as by disseminating information on available systems, how to respond when matter arise, and so on.

Y. Osawa:

I appreciate your thoughts very much. Another challenge that we have towards the future is how we can create rewarding work. This is a pillar of the same importance as creating enjoyable places to work. We already have various evaluation systems in place, but we need to make further consideration of what we can do to enable employees to feel that their job is interesting and work with vitality every day.

Prof. Sato:

I think that it is a diffi cult challenge, but I think the key is how to link the growth of employees to the growth of the company. If they sense their own growth as a result of giving the utmost to the tasks before them, and, what is more, if they feel that it has contributed to the growth of the company, then they will feel a sense of accomplishment as well as fulfi llment.

Y. Osawa:

We have established various teams in-house towards the formulation of a new medium-term management plan that will be implemented from the next fi scal year, and they are carrying out different discussions. I am hoping that during this process when all employees are deliberating on what kind of a company we will nurture over the three years of the plan, there will be a mixture of top-down thinking and bottom-up ideas that will enable us to fi nd a path that will synchronize the growth of the Company with the growth of employees. For this, too, I want our employees to continually keep the "Creating Our Future of Dreams" corporate philosophy in their minds so that it penetrates their hearts as SCSK's DNA. I would also like them to do their utmost so that SCSK can provide high value to society through those efforts.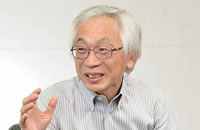 Hiroki Sato
Profile
Hiroki Sato is a professor of The University of Tokyo's Institute of Social Science. He is an expert in human resources management and personnel labor management, and is a leading Japanese authority on worklife balance. He has launched a worklife balance promotion and research project as collaborative research with a private-sector fi rm, and he is carrying out speculative, empirical, and policyrelated research on the relationship between work-life balance, corporate management, and human resources utilization.