Key CSR Issues
SCSK has defined key CSR issues, based on which it advances initiatives for creating stakeholder value.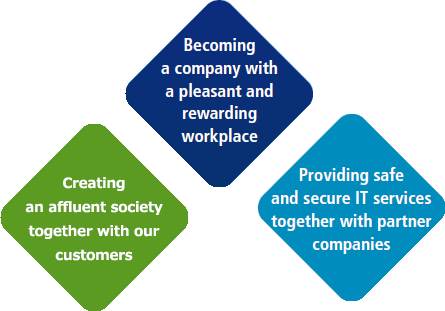 Through our IT services, we are working to improve convenience and help resolve social issues in response to stakeholder needs. Together with our customers, we aim for the realization of a pleasant and affluent society.
Under our aim of "becoming a company with a pleasant and rewarding workplace," we have established four underlying themes: work–life balance, diversity, health and productivity management, and human resource development. With a focus on propagating these themes into the overall IT industry, we engage in various initiatives.
In order for customers to be able to use our IT services safely and with peace of mind, we work together with our partner companies to achieve thorough information management, enhance information security, and improve quality.
Process of Determining Key Issues of CSR
SCSK decided on its key issues of CSR giving consideration to the needs of society and the influence the issues would have on its management.
SCSK engages in dialogue with its stakeholders and promotes debate, step by step, over how to best carry out these themes.

* CSR Review Forum-Japan: A private, non-profit organization established through an alliance between numerous civil society organizations (NGOs and NPOs) that work to resolve issues on the front lines of society and individual members affiliated with these organizations. The forum aims for the creation of a sustainable society.
What Kind of CSR is Required in the IT Industry?
In recent years, society has come to see corporate contributions to a sustainable society as a corporate social responsibility (CSR), regardless of business type or industry. The United Nations Global Compact initiative and the release of the ISO 26000 standard seem likely to accelerate this trend. As expectations toward corporations rise, what is most expected of the IT industry is to use information technology to solve the issues facing society.
Themes attracting particular attention and expectations in recent years include enhancement of business efficiency through IT services, demand for business continuity plans (BCP), digital inclusion efforts (elimination of the digital divide), and contributions to environmental impact reduction for customers and society. To exist as information infrastructure that underpins the smooth management of society, system and network stability is essential, and CSR to ensure security and user peace of mind is also in demand.
At the same time, because of the special characteristics of our industry, such themes as reducing the total hours worked by our employees and the amount of electric power consumed as a consequence of the spread of computing have assumed particular importance in corporate CSR efforts, and SCSK is also promoting such efforts. Every CSR issue should be solved through dialog with stakeholders.