Promotion of Working Style Reforms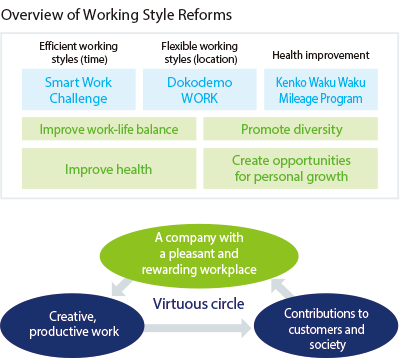 SCSK has rolled out the Smart Work Challenge (efficient working styles), Dokodemo WORK (flexible working styles), and Kenko Waku Waku Mileage program (health improvement) initiatives in an effort to become a company with a pleasant and rewarding workplace. We can only provide the best services that make our customers happy and impressed if our employees are mentally and physically healthy, take pride in their work, and can deliver their best performance. We believe that this added value produces a virtuous circle that can boost both the growth of the company and returns to stakeholders.
Smart Work Challenge
In April 2013, we launched the Smart Work Challenge 20* program. Smart Work Challenge 20 is named after the purpose of the program—endeavoring ("challenge") to achieve the goal ("20") through more efficient ("smart") labor ("work") and its stated goal of "20" refers to employees taking 20 paid vacation days a year as well as limiting average monthly overtime to less than 20 hours. Under this initiative, we have encouraged each department to work independently on raising the efficiencies of their operations and have introduced a number of new systems.
These include an incentive (special bonus) paid out when the targets for overtime work reduction and paid vacation days taken are achieved so as to return the amount of reduced overtime compensation to employees, backup leave for unforeseen situations after taking all annual paid vacation days, company days off for weekdays in between two consecutive national holidays (systematic granting of annual paid vacation day), and authentication rules where the person approving overtime work is changed to a higher ranking supervisor in stages based on the number of hours (section manager to president). By promoting both reduced overtime and the taking of paid vacation simultaneously, we have been able to make significant strides in reducing overtime work and ensuring employees take their annual paid vacation days.
* Name changed to Smart Work Challenge in fiscal 2015. The incentive was eliminated in fiscal 2015 in favor of a monthly stipend.

Creating New Working Styles with Dokodemo WORK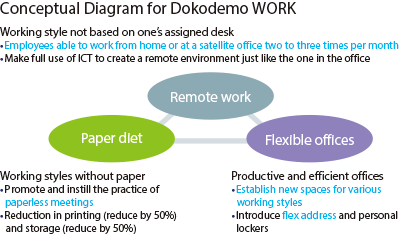 SCSK launched Dokodemo WORK, an initiative to establish and practice new working styles enabling employees to work anytime from anywhere. Dokodemo WORK includes three main measures implemented simultaneously. These are remote work that allows employees to work from home or a satellite office, paper diet where efforts are made to reduce both printing and storage involving paper, a major hurdle to remote work, and flexible offices that transform conventional offices with the flex address system and space set aside for varying working styles.
We are gradually expanding the scope of eligible organizations and will soon roll out this initiative companywide after identifying and resolving any issues. Management is also repeatedly getting the message out about Dokodemo WORK and sharing best practices across the company. Going forward, we will make further improvements to Dokodemo WORK's mechanisms and environment in an effort to promote the mindset of focusing on results and not time or workplace.
Nobuo Saito
Tokyo General Affairs Dept.,
General Affairs Div.,
Legal, General Affairs,
Corporate Communications & CSR Group
Fulfillment Everyday with Work Anywhere
In my department, a number of employees use the telecommuting system, and I too take advantage of this system once a week. From home, I can connect to the office with my PC by utilizing a remote access virtual private network and am able to interact with coworkers using voice and video delivered through IP telephony. These conveniences help me work comfortably, safely, and efficiently from my own home. More importantly, the telecommuting system has granted me greater amounts of time to spend on leisure, with my family, or engaged in selfstudy, making my everyday life more varied and fulfilling.