Exercising Employee Potential to Change the IT Industry and Consequently Common Practices in Japan
SCSK plays a pioneering role by promoting working style reforms based around health and productivity management, seeking to entrench these ractices throughout the IT industry and Japanese society as a whole.
Successes of Working Style Reforms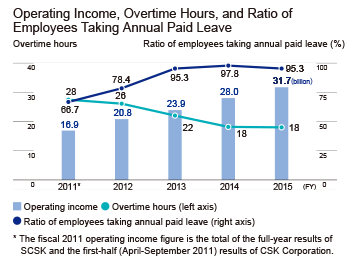 At the time of the 2011 merger, we put forth our corporate philosophy as "Create Our Future of Dreams." Based on this philosophy, we defined our promise of "respecting each other." Our aim of "becoming a company with a pleasant and rewarding workplace" is meant to ensure that we can exercise this philosophy. We thus promote health and productivity management based on the belief that the health of those working at SCSK underpins everything we do.
Taking this belief to heart, the top management at the time assumed the position of chief health officer (CHO). In this capacity, he guides us as we create successes in various areas on this front that continue to demonstrate our dedication to this belief to directors, employees, and their families. For example, we have pushed forward with numerous initiatives for facilitating employees' health and well-being, including promoting overtime work reduction and paid vacation acquisition and encouraging employees to stop smoking. These efforts have enabled us to entrench new working styles throughout the Company, thereby realizing shortened work hours and heightened productivity. The Company continues to grow as a result.
The successes of these working style reforms have earned high acclaim from outside the Company. Specifically, in 2015 SCSK claimed the No. 1 position in Nikkei Inc.'s survey of companies that fully exercise their employees' potential for the second consecutive year. In addition, Japan's Cabinet Office presented the Company with the Japanese government's Advanced Corporation Awards for the Promotion of Women. Such recognition has served to increase recognition of SCSK while improving its corporate and brand image.
Communication of Our Commitment to Working Style Reforms
SCSK implements working style reforms to boost the productivity of all employees with the ultimate goal of heightening corporate competitiveness. These initiatives have been referenced by industry peers and customers alike as exemplary models of management success. We will continue to disclose information on the initiatives instituted by SCSK with the aim of furthering the advancement of working style reforms at companies throughout Japan.
Working Style Reform Initiatives