Compliance
System to Promote Compliance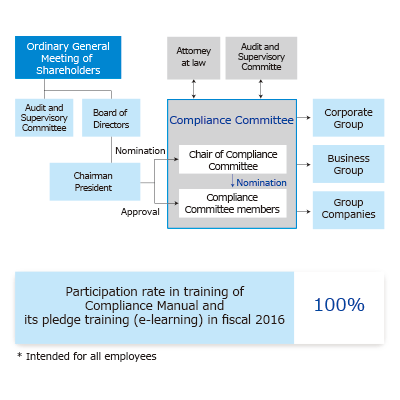 The Company views compliance as observing laws and regulations, and acting with a high sense of ethics within the norms of society. Based on its corporate philosophy and Code of Conduct, SCSK expects its directors and employees to conduct themselves in a sincere and appropriate manner as members of society and the Company. Each individual director and employee is responsible for his/her own actions based on the concept of compliance, and strives to produce results that fulfill the social responsibility of the entire Company as an organization.
We have established the Compliance Rules, created the SCSK Compliance Manual, and developed an organizational structure for compliance-related efforts. Furthermore, SCSK has established the Compliance Committee in order to carry out proper compliance implementation. We also hold a variety of compliance-related training sessions to enable employees to make correct decisions and take actions that do not violate compliance under any circumstances. In addition, an internal reporting system has been implemented to facilitate the prevention and early resolution of compliance violations.
Fair Trading
The SCSK Compliance Manual clearly stipulates measures for ensuring fair trading as specific rules about compliance. Its standards include a Code of Business Activities, which sets forth requirements for appropriately utilizing dispatch and subcontract work and respecting and protecting intellectual property rights.
These standards support the development of commercial relationships based on trust with our suppliers through fair and free competition. The manual also outlines corporate ethics required for fair operating practices in its Code for Employees as Members of Society, which includes rules against corruption and rules concerning political donations and stresses the importance of resisting organized crime.