To reduce the environmental footprint of its business activities and contribute to the preservation of the global environment, SCSK is building an environmental management system, establishing objectives, goals, and indices, and promoting environmental preservation activities.
Environmental Policy
SCSK promotes environmental activities in conformance with the environmental policies and systems of Sumitomo Corporation and the Sumitomo Group companies.
Sumitomo Corporation Group Environmental Policy
I. Basic Policy

As a global organization, the Sumitomo Corporation Group recognizes that environmental issues are global in scale and that they are long-range concerns affecting future generations. Through sound business activities, the Sumitomo Corporation Group will strive to achieve sustainable development aimed at symbiosis between social and economic progress and environmental preservation.
II. Basic Guidelines

In pursuing its diversified business activities both within Japan and overseas, the Sumitomo Corporation Group shall comply with the following guidelines, and, through cooperation between its Group companies, work to achieve the aims of its basic environmental policy.

Basic stance with regard to the environment:


To attach great importance to protecting the global environment as a good corporate citizen in keeping with our Action Plan.

Compliance with environmental legislation:


To strictly observe legislation related to environmental matters not only in Japan but also overseas and abide by any agreements undertaken by the Group companies.

Caring for the natural environment:


To protect the natural environment and preserve biodiversity.

Efficient use of resources and energy:


To be mindful of the finite availability of resources and energy and strive to use them both efficiently and effectively.

Contributing to the building of a recycling-oriented society:


To endeavor to help build a recycling-oriented society by reducing waste and reusing and recycling resources.

Promotion of businesses that contribute to environmental preservation:


To utilize our integrated corporate strength to promote businesses and projects, which contribute to environmental preservation and reduction of the impact of society on the natural environment.

Establishment of environmental management:


To use an environmental management system to prevent environmental pollution and set environmental objectives and targets which are regularly reviewed and continuously upgraded.

Disclosure of the Environmental Policy:


To communicate this Environmental Policy to all people who are working for or on behalf of the Sumitomo Corporation Group, as well as disclosing it externally.
Environmental Management
ISO 14001 Certification
SCSK has acquired the ISO 14001 environmental management system standard certification.
<ISO 14001 Management System Certificate>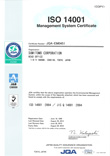 Click image for larger version

(797KB)
<ISO 14001 Appendix>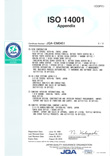 Click image for larger version

(1,073KB)
Environmental Management Promotion Framework
The SCSK Group has acquired ISO 14001 environmental management system standard certification.
An environmental management promotion structure, in which the whole Group comes together as one, has been built under the President and the Executive Vice President.
Environmental preservation activities that are based on "environmental objectives, goals and indices" are being promoted continuously and systematically.
The implementation status of each plan is evaluated annually by an audit team and the results are reported to management, which then undertakes to revise the activities as required. Through continuous improvement, we are aiming to make further contributions to environmental preservation and footprint reduction.
Promotion Framework Diagram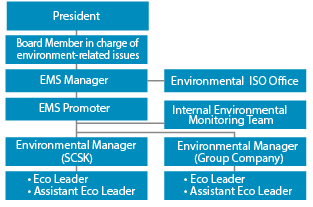 PDCA Cycle-based Efforts
In order to strengthen our environmental activities into those that are highly viable, all those involved, from management to employees in the field, follow the PDCA (plan-do-check-act) cycle to enable ongoing improvements.
In executing the PDCA cycle, each Group company and internal division "plan" by formulating their respective environmental action plan on the basis of the Sumitomo Shoji Group's environmental policy, and "do" by executing the plan. The auditing division carries out the "check" by evaluating the status of operation as needed. After receiving a report of the results of the evaluation, management takes "action" by reflecting results and revising the environmental management system.
The SCSK Group PDCA Cycle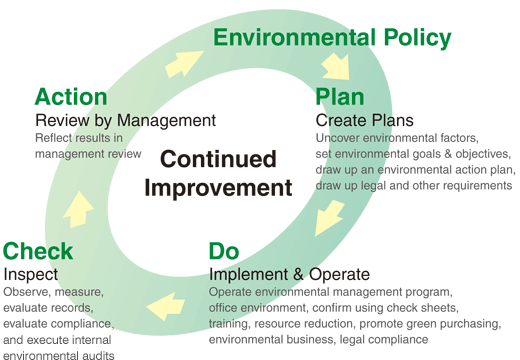 Environmental Objectives, Goals and Indices
At the SCSK Group, we have established environmental objectives, goals and indices upon which we base our environmental preservation activities. Our specific objectives, goals, and indices are as follows.
Objectives, Goals and Indices
Objectives
Goals
Indices
Expansion of environmental business
Expansion of dealings in environmentally-friendly products & services
System development for work task efficiency
Sales figures
Number of client contracts
Number of system developments, etc.
Preservation of office environment
Reduction of electric power consumption
Efficient use of office paper
Reduction and thorough sorting of waste products
Energy: amount consumed
Office paper: amount purchased
Waste products: amount generated
Compliance with environmental laws and regulations
Confirmation of and compliance with applicable laws and regulations
Confirmation of revisions to applicable articles (as a principle, twice a year)
Elevation of environmental preservation awareness
Implementation of educational activities
Environmental ISO14001 lectures, etc.
Rigorous Compliance with Environmental Laws and Regulations
In order to reduce the environmental footprint of its business activities, the SCSK Group ensures rigorous compliance with environmental laws and regulations as a responsibility to be rightly fulfilled by corporation. While there are many changes that society and the government require, we continually monitor the latest trends and revisions in related laws and regulations, and respond appropriately.
Reduction of the Environmental Footprint of Business Activities
SCSK is undertaking measures for the prevention of global warming by promoting energy conservation at its business locations and offices. Specific measures include digitization in order to promote a paperless office, reduction of energy consumption by utilizing networks for the streamlining of operations as well as thorough enforcement of electric power-saving and the proper separation and disposal of waste products at the office. We are enhancing the awareness of each employee and carrying out green business activities.
Meanwhile, we are also working to reduce the load on the environment by contributing, through our IT service business, to the reduction of the energy used by our customers.
Promotion of Green IT—Efforts at Our Data Center
SCSK reduces CO2 emissions at its data centers—for which there are mounting social demands—through such measures as the installation of highly efficient equipment and the promotion of energy-saving operations. Each of our data centers is managed using power usage effectiveness (PUE = Total facility power consumption ÷ IT equipment power consumption), which is an index announced by The Green Grid, a U.S. industry group that promotes reduction in the electric power consumed by data centers.