SCSK believes that it needs to provide an employee-friendly environment to become a company that keeps growing. What, then, is necessary to become an enjoyable and rewarding place to work? We exchanged opinions on this topic with some experts.
(Affiliations and titles are those as of August 1, 2013)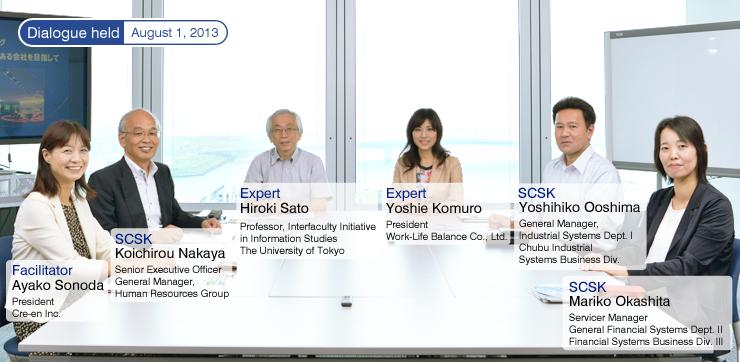 Toward an Enjoyable and Rewarding Place to Work
Focused on Women's Career Development to Promote Diversity
A. Sonoda: SCSK aims to become an enjoyable and rewarding place to work. I was told that to promote diversity, SCSK first began by creating a system that would allow women to have a long career at the company. Ms. Okashita, I understand that you took the lead in utilizing such systems. What is your impression in terms of the company being an enjoyable place for women to work?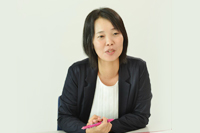 Mariko Okashita (SCSK)
M. Okashita: When I joined the company in 1991, I was hired as a career-track employee. It was then only the fifth year since this employment category had become open to women at the company. In fact, everyone still took it for granted that a woman would quit her job when she got married.
I continued working for the company not only after marriage to a fellow employee but even after having a child. As a matter of fact, I became the first woman in the history of the company to return to work after taking maternity leave. I think that the understanding and cooperation of my boss at the time played a large part in this. He said, "Give it your all so that you can become a model for the age to come," and I received a wide variety of support including a departmental transfer. With various systems [favorable to women] gradually introduced over the past twelve years [since I joined the company], circumstances are totally different today. It is encouraging to see so many women, including my subordinates and juniors, return to work after taking childcare leave.
Prof. Sato: A woman's early career prior to marriage has a large impact on women's retirement rates upon marriage or childbirth. Whether the desire to continue working at their current job after marriage and childbirth takes hold or not, and whether a woman who gave birth and is very busy with child-rearing feels a desire to return to full time work as soon as she can—such consciousness are determined in the first few years after a women joins a company. The woman's superior during these early years also plays an important role in conveying the rewarding and interesting aspects of work.
Ms. Komuro: As Prof. Sato said, the demotivation of women often occurs early on. When they start becoming conscious about marriage, they think about whether they can continue working for a long time at their company. They tend to give up that thought if there are no precedents around them. Interviewing women in their third to fifth year at the company to hear their opinions, promoting their exchange with older women employees who have advanced their careers even after marriage and childbirth, and providing other such support are also probably necessary to improve the retention rate of women.
K. Nakaya: Here at SCSK, efforts towards creating an enjoyable place to work gained momentum upon the merger in 2011. The overall retention rate of employees has improved significantly as a result. Annual turnover has decreased to about 2 to 3%, and there is no radical difference between men and women. However, it may be true that our early support of women in their third to fifth year with the company was not sufficient. I feel that we should think seriously about this going forward in the sense of promoting even greater diversity, such as by increasing the number of women in management positions.
A Sustainable Way for All Employees to Work
A. Sonoda: What kinds of efforts are required of a company to enable women to feel from early on in their careers that they can continue working with a rewarding sense of satisfaction even after marriage and childbirth?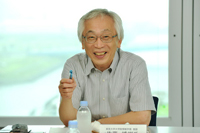 Hiroki Sato (Expert)
Prof. Sato: It is extremely important to improve the working environment so as to enable women to continue working while bringing up children. However, we also have to be mindful of the fact that this can give rise to particular departments where it is easier than others for women to combine work and child-rearing. This could limit the departments to which working mothers would be assigned, which in turn could interfere with their chances of skill development or hamper their careers. That is why I think the important thing is to change the way employees in the whole company work.
To make it possible for women to return quickly from childcare leave or shortened working hours back to "ordinary" fulltime work, it is important to ensure that "ordinary" work allows work and child-rearing to be combined. "Ordinary" work cannot assume that long overtime hours will be worked on a daily basis.
K. Nakaya: Exactly. At SCSK, we are currently promoting an initiative called "Smart Work Challenge 20"*1, the aim of which is to improve the way we work. If everyone else in your office leaves on time, then there is no pressure on you to stay and do overtime. Likewise with paid vacations—it's easier to take them if others are using their vacation days, too.
M. Okashita: In that sense, the people in my department may not feel any pressure about leaving the office on time. That's because they see me, the manager, doing just that three days out of the week to take care of my children. My own way of working changed, too, from feeling that I could never do any overtime. At the same time, I encourage people to finish work as soon as they can and go home early. However, from a companywide perspective, reducing overtime is still a big challenge. Under Smart Work Challenge 20, specific numerical goals have been set from the top down. I think it has created a good opportunity to reduce overtime proactively.
Prof. Sato: Something that concerns an even greater number of employees than child-rearing is the issue of juggling work and the nursing care of elderly parents. Those in management positions, who are often over 50, can no longer focus just on work once they are faced with this issue. There is a need for all employees to change their awareness and think of the need to change the current working style as a matter that concerns them too. Unlike childcare leave, nursing leave is not a system where more people taking the leave is better. Companies need to provide information that will enable employees to get the aid of communities and experts effectively instead of trying to do everything on their own.
Ms. Komuro: The concept of "work-life balance" seems to strike home better with the generation of employees who think that it has nothing to do with them when they hear, "balancing the nursing care of parents with work." It's too late to try and respond to the issue of nursing care after one is faced with this problem, and there are many who choose to retire. How one should think about the nursing care of their parents, what kinds of systems are available, and how one can overcome this issue—it is extremely important to provide such information in advance to employees with elderly parents so that they can prepare for it.
*1 Smart Work Challenge 20: An initiative that aims to promote the good health of employees as well as create a trigger for the virtuous cycle of (1) improving the efficiency and productivity of work, and (2) encouraging employees to proactively seek to refresh themselves or execute self-improvement, thereby leading to the further improvement of productivity. The companywide target is for employees to take "20" paid vacation days a year (i.e. 100% consumption of vacation days granted for the fiscal year) as well as keep the average monthly overtime to "20" hours (i.e. reduce the average of the last fiscal year by 20%, which is roughly equal to an average daily reduction of overtime by 20 minutes). A contest is being carried out for the submission of ideas to help people achieve the targets of Smart Work Challenge 20.
A Thorough Review of Operations to Reduce Overtime
A. Sonoda: If work-life balance is an issue that concerns every employee, then I think that reviewing how work itself is carried out becomes an important point. What kind of efforts are you making in this regard?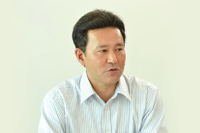 Yoshihiko Ooshima (SCSK)
Y. Ooshima: One of the issues for the systems units in terms of reducing overtime is the type of agreements we have in place with our customers. In my department, about 70% of employees are stationed fulltime at customers' offices. The agreement we have with customers is often that the services we are compensated for are to be calculated on an hourly basis. This makes it difficult for our employees to leave the office on time even if they want to reduce overtime hours. We are currently endeavoring to switch these agreements to those that are based on accomplishments and are unaffected by the number of hours worked.
Ms. Komuro: At times, it becomes necessary to negotiate with customers regarding delivery times and the way work is carried out for them. In agreements where compensations are calculated on an hourly basis, there tends to be a misunderstanding that costs can be reduced through quick turn-around. However, when you try to shorten the delivery period, the actual load becomes heavier for those on site, so it ends up costing more. This should be explained to customers, and appropriate deadlines should be coordinated with the customer. We would like to make a thorough re-examination of why overtime work arises and whether such work cannot be done without doing overtime.
Y. Ooshima: In that sense, I feel on a daily basis that what is of importance is how much of a deep understanding we have of our customers' operations. If we don't try to understand what it is that our customers really require and do only what our customers instruct us to do, we end up having to backtrack and redo things. We need to establish ways to work without wasting and losing time like that if we are to aim to reduce overtime to zero.
Up to now, it was taken for granted that systems engineering was a line of work that required very long working hours. We hope that SCSK taking the initiative to change this accepted practice will lead the overall industry in a better direction.
Ms. Komuro: Perhaps you would be able to achieve even more through your current Smart Work Challenge 20 contest for the submission of ideas to reduce working hours if you changed the way you're doing things a little.
The reasons for overtime work vary from department to department. If you are to reduce overtime, you need to take measures that match the respective cause. I think that it would make it possible for other departments to select effective efforts if you went beyond just sharing ideas on how to reduce overtime. Instead, you could describe the work your department does, how you went about sorting the problem out, and where the cause of the overtime was. Then, share how it was identified, the measures that were taken, and their results.
K. Nakaya: We in human resources are keenly aware that there is a real need for transformation in the way we work. We have been making a call for the reduction of overtime hours for quite some time. However, the reduction does not really go very far if superiors simply order their subordinates not to do overtime work. Instead, it may just increase the sense of burden being felt by each employee.
Prof. Sato: Another thing that you should be careful of when trying to reduce overtime is that priority should be given to how many no-overtime days can be achieved in a week rather than trying to curb the average hours of overtime work by decreasing the daily overtime hours a bit. If overtime work is required, then a day should systematically be decided for that purpose. You should try to avoid situations where people are continuing after-hours work in a desultory manner. In other words, it should become normal that there is always someone going home on time at each workplace.
Ms. Komuro: It is also important to fix certain days of the week as days when people are to go home on time. It becomes easier for employees to secure time for self-improvement, such as by starting studies on something new, when they know they have, on an ongoing basis, fixed days that they can leave the office early.
A Company's Future Is Supported by Employees Who Take the Initiative to Continue Learning
A. Sonoda: There are huge benefits for the company if, as a result of reducing the number of hours worked, employees can carry out self-improvement and enhance their capabilities. What kind of a position should a company take regarding employees taking the initiative to learn?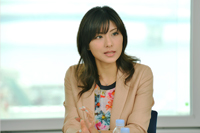 Yoshie Komuro (Expert)
Prof. Sato: In today's world of severe change, the kind of occupational skills that a company wants from its employees is also changing. What supports a company's future are not people who can carry out the work presently before them without any problem but rather people who can deal with the changes that may occur a few years down the road. In other words, what are needed are people with versatile occupational skills or those with a high capacity for learning. It is essential that a company evaluates highly and supports employees who continue "learning" for the future.
Ms. Komuro: My thoughts, exactly. People tend to pursue self-improvement more often the more they feel that their company has expectations for them. I hope to see people in management positions create opportunities to discuss long-term visions with their subordinates. It is important to ask subordinates how they see their careers in five to ten years and then to discuss what kind of skills need to be acquired or brushed up in order to achieve that vision—management like that, which will help each employee motivate themselves. It is essential that employees act proactively for initiatives like Smart Work Challenge 20 to take root as well.
Y. Ooshima: As you have pointed out, I think it is really important that we in management positions brush up our coaching skills. Initiatives where people do things because they were told to do so by their superiors do not last very long. What is required is that the employees working on site change the way they work voluntarily regardless of whether a supervisor is present. To make this happen, management must first make an effort and become a model that our subordinates can aim for.
K. Nakaya: I feel that creating an employee-friendly workplace is closely related to creating a company that is rewarding to work for. We want to aim to become a company that pursues being rewarding and challenging so that the diverse human resources who work at SCSK will take the initiative to further enhance themselves.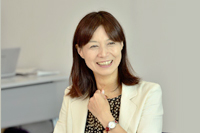 Ayako Sonoda (Facilitator)
A. Sonoda: I hope that SCSK will strive to become the most rewarding place to work and realize a company that attracts many magnetic people. Thank you very much for your time today.
Thoughts Following the Dialogue with Stakeholders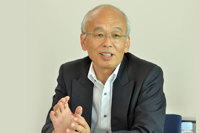 Koichiro Nakaya (SCSK)
In this dialogue, we were able to hear highly thought-provoking opinions towards the realization of becoming an enjoyable and rewarding place to work. SCSK is currently re-examining the way employees work through the Smart Work Challenge 20 initiative. To promote greater understanding as an initiative for each and every employee, we would like to further advance efforts, going forward, focused on making preparations for providing nursing care to elderly parents. We are also considering increased support that will enable employees to utilize their free hours – created by re-examination of the way we work – towards personal development, such as through studies for one's future and interaction with a diversity of people.