Initiatives for Enhancing Technical and Development Capabilities
Responding swiftly to the rapid changes in information and communications technology (ICT) and providing the appropriate services to customers are the most important responsibilities of an IT company. ICT is now an integral part of our clients' business activities and the lives of consumers in general. The daily examination, verification, and technical development for the practical application of new technologies are essential to having customers use these technologies securely and without any concern. SCSK has a dedicated internal division to carry out research and development, conduct verification of new technologies, and raise internal awareness regarding those new technologies.
R&D for Digitization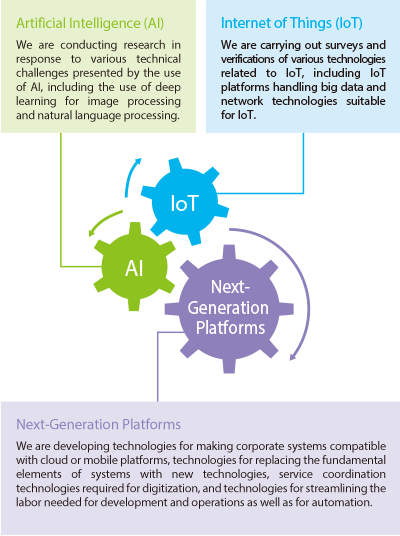 The IT revolution epitomized by Social/Mobile/Analytics/Cloud (SMAC) that began several years ago has now become firmly entrenched in society and the corporate sector. Also, the use of deep learning, an evolved form of artificial intelligence (AI) technology, is now gradually getting underway.
The emergence of these new technologies has created such trends as the Omnichannel, IoT, and FinTech. As a result, customers have a growing interest in getting the most out of IT that promotes the digitization of their business.
Having focused on this trend, SCSK is carrying out trend surveys and verification of basic technologies covering the next generation of AI, IoT and IT environments, mainly through its dedicated in-house R&D organizations. We are also working on commercialization research with the goal of strengthening and innovating our own products and services.
Providing Opportunities That Encourage Employees to Take Notice and Tackle Challenges
Since fiscal 2015, SCSK has held a hackathon called Technoco as a venue for employees to tackle the challenges of new technologies that are outside of their normal work duties. Technoco is an event open to all employees regardless of job category, skill level or age, with employees forming teams to concentrate on developing apps. The apps are then evaluated and awarded based on use of technology, creativity and innovativeness.
In August 2016, we set up Technoco Village (Hacker Space) as a place for employees to hone their technical skills on a daily basis.
Going forward, SCSK will provide opportunities for employees to take notice of technologies and continually offer venues for employees to network and expand their individual capabilities, aiming to further energize our technological initiatives.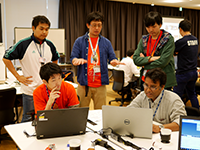 Technoco (Hackathon)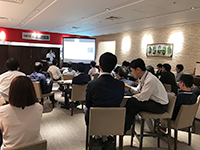 Technoco Village lightning talk
Initiatives for OSS
OSS is now being widely used by various systems, making it an important element of IT platforms underpinning corporate systems and social infrastructure. At SCSK, we are working to promote the development and greater use of OSS from both usage and development/operations standpoints. At the same time, we are also actively building relationships with the community by holding workshops for OSS users and other means.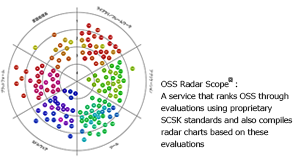 Customer Service
Help Desk Service
SCSK is connected to general consumers through the activities of its corporate customers. Through our Help Desk Service for corporate customers, we contribute to the dissemination of knowledge regarding our corporate customers'products and services.
Product Support
SCSK offers superior overseas IT products to its customers. While we are careful to verify the quality of such products, if a customer should encounter a problem with a product, we provide appropriate support for all such products consistent with the terms and conditions of the warranty, in order for customers to feel satisfied using these products.
Customer Satisfaction Survey
To confirm whether or not customers are satisfied with SCSK's IT services, we carry out regular customer satisfaction surveys. When our services / products are evaluated highly, we share these cases internally to encourage greater efforts to enhance customer satisfaction. If we receive complaints or suggestions for improvement, we take such feedback seriously, identifying the cause and deploying preventive measures for similar products on a companywide basis.