SCSK is engaged in social contribution activities as a good corporate citizen and part of the wider community, with particular emphasis on activities for developing next-generation human resources, collaborating with local communities and international society, and preserving the global environment.
Developing Next-generation Human Resources
CAMP

CAMP (Children's Art Museum & Park) is a social contribution activity that fosters child creativity in interactive settings through a new style of workshop-based learning.
Click here for more in this website on CAMP
Click here for the CAMP website

Support of IT Human Resources Development in Asia
In Asia, which is a bearer of the future, SCSK is supporting the development of human resources in the field of information technology through the establishment of scholarships at Fudan University and Shanghai Jiao Tong University—two National Key Universities in China. The scholarships are intended primarily for students in the field of information technology.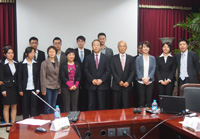 Collaboration with Regional Communities and International Society
To coexist and cooperate with members of the local community, employees at each of our offices participate in the community's volunteer activities and CAMP Workshops. Furthermore, we are also involved in international contribution through activities that can be easily carried out at the offices.
Special Olympics Nippon
The Special Olympics is an international sporting organization which throughout the year provides intellectually disabled people with opportunities to train and perform a variety of sports.
SCSK supports the NPO Special Olympics Nippon as an official friendship sponsor. In addition, volunteer staff from each of our business bases participate at the events in their area.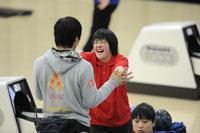 Cup for Two
CUP FOR TWO is a social contribution activity carried out through lunch at our staff dining halls, based on the "TABLE FOR TWO" concept, a movement which aims to combat hunger in developing countries, and obesity and lifestyle diseases in developed countries.
At SCSK, we have implemented a program called "CUP FOR TWO" at our staff café in the Toyosu Headquarters, in which 10 yen from the cost of every health drink sold goes to a fund for children's school lunches in developing countries in Africa.
Our Chubu and Kansai branches also run the "CUP FOR TWO" program using their vending machines.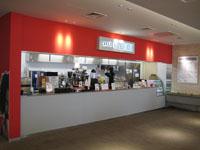 Donation of Professional Baseball Game Tickets to Welfare Facilities
Since 2012, SCSK has been donating Orix Buffaloes baseball game tickets to welfare facilities and other organizations. Many children enjoyed attending baseball games, with tickets presented this year to facilities for the disabled and orphanages through the Osaka Prefectural Government Welfare Department's Disabled and Welfare Office, Kobe City Hall's Public Health and Welfare Bureau, and Child and Family Bureau.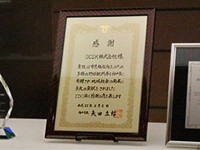 Local Activities
At our Toyosu Headquarters, we use our lunch hour to carry out cleaning activities together with local corporations and organizations like Koto City's social contribution network (Korabora),
In addition, each business base holds events to sell products made at local welfare centers, supports local events, and carries out other activities in the hope of creating positive relationships with the local community.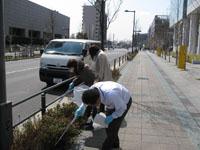 Protection of the Earth's Environment
We carry out the following activities to help protect the Earth's beautifully green environment, to preserve for future generations.
National Land Afforestation Promotion Organization
Since 1997, we have been helping with afforestation efforts, mainly of forest land, as a supporting member of the National Land Afforestation Promotion Organization.
Minoh Mountain Foothills Preservation Fund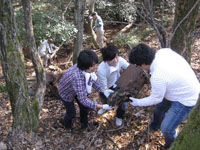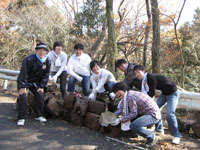 The Public Trust Fund of the Preservation of Minoh Mountain Foothills was established to protect the environment of the Minoh Mountain area, which is near Toyonaka City, Osaka, home to our Kansai branch. SCSK supports this fund and helps the citizens and organizations who carry out the preservation activities.
Volunteer SCSK staff also participate in the "Great Minoh Mountain Cleaning Effort," a supplementary fund activity run by the Minoh Mountain Patrol Team.
Clean Fukuoka Campaign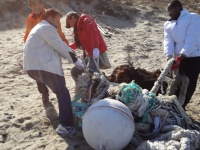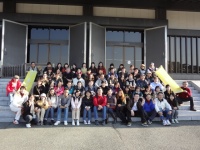 SCSK's Kyushu Office carries out the Clean Fukuoka Campaign, a community environmental preservation activity, in cooperation with Groundwork Fukuoka. The NPO organization conducts activities to protect the environment and create an affluent local society for the next generation under the four themes of "environmental improvement," "environmental education," "welfare enlightenment," and "international exchange."
The Okawa Foundation for Information and Telecommunications (The Okawa Foundation)
The Okawa Foundation

is a public interest incorporated foundation authorized by the prime minister. It provides research grants, recognizes individuals, and engages in other international public interest activities (in countries that include Japan, the U.S.A., China and South Korea) for international academic and cultural exchange in the field of telecommunications. SCSK supports the foundation's activities.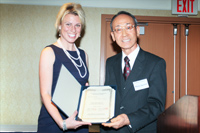 Presentation of research grant to an American IT researcher
Framework to Support Employee Social Contribution Activities
We carry out the following activities as a framework to support our employees' voluntary social contribution activities.
Earth One
Earth One is a voluntary club organization which was established to encourage employees' social contribution activities. The cost of the activities is funded by members, with funds used to supplement the costs of volunteer activities planned by members, or for donations to social contribution organizations like NPOs and NGOs that the members recommend. A system is in place in which the Company matches any donations made by Earth One to an external organization.
Click here for more in this website on Earth One
Volunteer Leave of Absence
Employees wishing to participate in activities of the Japan International Cooperation Agency (JICA) such as the Japan Overseas Cooperation Volunteers (JOCV) or Senior Volunteers may take a leave of absence from work for a period of up to two and a half years. Salary and bonuses will be paid in part for the period, in accordance with the rules in place.
Through this system, SCSK employees are currently working hard as JICA members, providing IT skills in the Philippines and the Marshall Islands..
Volunteer Leave
Employees may take three days of leave per year, on top of their annual paid leave, for the purpose of participating in volunteer activities.